By Bob Weaver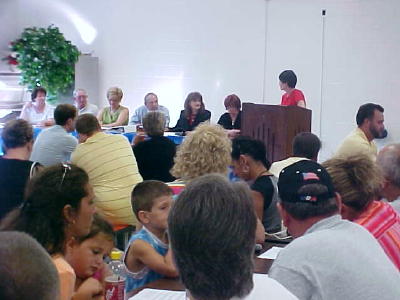 Parents at packed Hart's High School cafeteria
hear state's plan for closure and re-configuration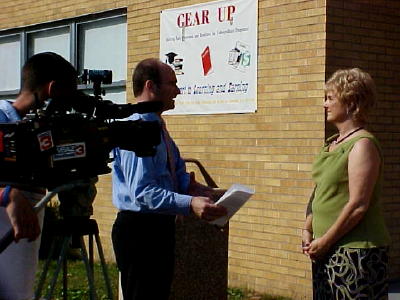 Lincoln board president Carol Smith tells TV news that county
board members must sign-up to speak at state's hearing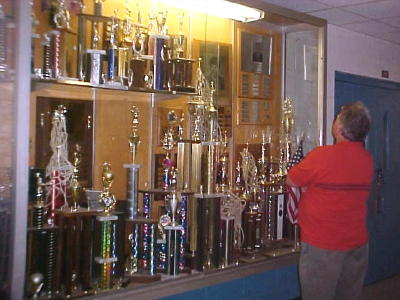 Harts resident looks at Harts High trophy case, recalling the
ill-fated school went to the regional basketball championship last year
It's been a roughshod battle over mandated school consolidations in West Virginia.
Lincoln County small schools activist Thomas Ramey challenged state school officials Thursday of conducting illegal closure meetings in his county.
Ramey made the assertion to Asst. State Superintendent of Schools Dr. Pam Cain, during a Lincoln County schools closure hearing, that he thought the presence of one state board member was illegal. Cain said she was following the advice of their attorney.
Ramey responded by asking "Is that the same attorney that advised you how to hire your new superintendent?"
The State Board has been advised that their hiring of new superintendent Steve Paine was illegal, violating the state's open meetings law. They have been told they must not only vote again, but they must also deliberate again on their choice.
The State Board failed to provide proper notice for strategic planning meetings on May 24 this year and September 27, 2004. One day before the board stripped the Mingo County school system of its accreditation and declared a state of emergency, they failed to post the meeting.
William Grizzell, the state appointed superintendent of Lincoln County schools, also failed to legally publish some of the local closure hearings now going on. Grizzell said it was an error.
The state board reportedly held an illegal meeting last earlier this year which was held to takeover the Mingo County school system.
Ramey says the Lincoln consolidation plan is botched, and could plunge the county school system into bankruptcy.
Lincoln citizens still have issues pending in the court system.
Lincoln school board president Carol Smith said State Superintendent of Schools Dave Stewart has acknowledged the plan is flawed.
The Lincoln consolidation battle, while it involves nine community schools, has mostly been over the construction of a $32 million consolidated high school at Hamlin, creating long bus rides of up to one-and-one half hours each way for some students in the southern part of the county.
The final chapter, at least as far as the state is concerned, appeared to be coming to a close this week with "re-configuration hearings" conducted by Cain.
Most Lincoln County residents believe the research that says children do better in community-based, smaller schools.
State education officials have been closing hundreds of community schools in West Virginia.
They once claimed it saved money.
Evidence says it does not.
They have also claimed it provides better curriculum opportunities, that students do better in larger schools with more offerings.
The research says it does not.
Ramey (pictured right) long-time community activist and member of Challenge WV, spoke solemnly to state officials at the closure hearings:
"This evening, after years engaged in this fight, I speak directly to the educational bureaucracy of the State of West Virginia.
It is botched democracy when non-elected officials use their bloody hammer on elected school board members, parents, children and the taxpayers of Lincoln County.
It is political and intellectual arrogance to run over us, with such cock-sure power, saying we are incapable of knowing what is best for our children.
There surely must be a day of reckoning for educational bureaucrats, but it most certainly is not through a democratic process.
Even our elected school board members have been required to sign up to speak at your hearings. What a travesty.
A man who spoke at last night's meeting said "We will deal with you at the ballot box."
He was wrong. We can't vote you out of your position. You just keep on going, steamrolling our beliefs and values, smiling at us during your public meetings.
It is wrecker-ball politics at its worst, your educational machine with its hundreds of highly paid administrators, holding meetings like this where the decisions have already been made before you darken our doorway.
Our message is simple. Education belongs in small communities, not in multi- million dollar cookie-cutter schools with kids on school buses hours each day. We are opposed to taxation without representation, we want a say about our kid's education.
Sitting here today, you can only imagine the futility we feel.
Sadly, you don't care - piously denying what most Americans who attended civics class knows.
I can assure you as a person who loves my community, my school and my neighbors, as a citizen and taxpayer of Lincoln County and as a member of Challenge WV, win or lose this Goliath battle in Lincoln County, the "David's" will return day after day, year after year, until you hear our message."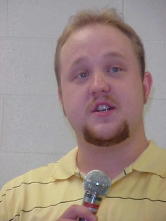 "The state has spent $1 billion on bricks and mortar, closing 300 community schools. Bricks and mortar have little to do with the building blocks of a child's education," said Craig Manns (pictured left), representing Challenge WV from Logan County. Manns asked state officials to come up with "real" numbers about long bus rides.
Linda Martin, coordinator of Challenge WV, told state officials "This was a bad plan from the beginning (Lincoln), outrageous and undemocratic." Here you have created more problems than solutions. It has taken the heart out of a community," she said.
Lindsey Manns of Harts told officials "It has now become taxation without representation," saying, "it is a high-handed takeover, ignoring constitutionally elected officials."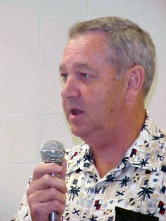 Danny Cook (pictured right) led 200 Harts parents in a prayer for elected officials. "We pray for our officials to put our kids first," he said. "Our kids have been sold out."
Darren Hatfield challenged state-appointed Superintendent Grizzell for receiving a $94,000 salary, subsidized by Charleston, referring to an ever-expanding number of state educational adminstrators.
"How can poor people get the gas money to get our kids to schools that are so far away. They'll never participate in sports or band or after-school activities," said Flo Carr.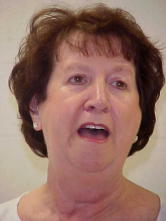 School board member Billy Frye (pictured left) expressed her frustration for voting on the county plan that moved consolidation ahead. Frye pointed toward the secretary of Lincoln's school chief, saying it was her intimidation that caused her to vote for a consolidation plan.
"She said I thought if I didn't vote for the plan, the state would take over the county," which it did anyway.