Submitted by Diana Shook

Calhoun County 4-H Camp was held June 12-16 at Gilmer County Recreation Center, near Glenville, with 63 campers and 22 counselors participating.

The theme was "Elements of 4-H." Anna Sampson designed the theme and program logo. It was a week of fun for campers and counselors.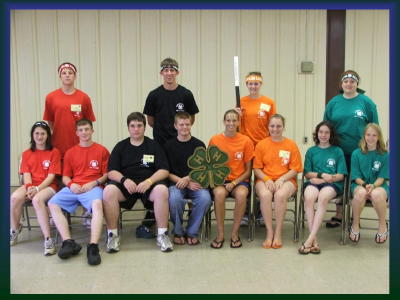 Tribe Leaders
Campers chosen as leaders of their tribes for the week included - Delaware, Chief Steven Cunningham and Sagamores JJ Bremar and Cory Roberts; Mingo, Chief Matt Houchin and Sagamores Elizabeth Duskey and Jeff Goodrich; Cherokee, Chief Katie Walker and Sagamores Courtney McKown and Amy Ashley; and Seneca, Chief Caitlin Weaver and Sagamores Anna Sampson and Maria Kisner.
Big Foot Chief was JoLynn Wilson and Sagamores was Susan Sullivan and Kevin Cunningham. Jesse Burns served as Big Chief at Council Circle and Shauna Davis was Charting Instructor and song leader.
Campers participated in a variety of craft classes including ceramics, leather, cross-stitch name tags, quilting, rubber stamping, beginner painting, advanced painting, stained glass art, crackle painting, and decoupage.
Classes in shooting sports, outdoor living, rocketry, basketball, charting, fishing, 1st year camper, newspaper, and canoing were held.
Ryan Bremar put together a camp slide that was viewed at the assembly on Thursday.
Campers participating in the 4-H Charting Program and receiving their 4-H pin were Courtney McKown and Cory Roberts.
We had two exchange campers this year Preston County- Samantha Bolyard and Gilmer County-Alea Hinterer. Closing Council Circle saw many awards presented. Those included air pistol to Jake Jett; archery, Matt Houchin; shotgun; Jeff Goodrich and air rife; Travis Godfrey.
Fishing award went to Chucky Kendall. Outdoor Living award with a $15.00 scholarship to return to county camp to Matt Houchin. Basketball certificates went to Emily Bain, JJ Bremar, Meghan Chriswell, Nathan Cosgrove, Chucky Kendall, Brittany Miller, Sarah Moore, Brittaney Potter, Michael Sullivan, Jeremy Watkins, and Samantha Yoak, Rockets award went to Tyler Ellison and Austin Moore.
4-H Teen Leaders recognized for being at camp this year was JJ Bremar, Hannah Conley, Jeff Goodrich, Matt Houchin, Michael Sullivan, and Katie Walker.
Lucky Pennies were presented to all first-year campers: Brandon Andrew, Emily Bain, Kenneth Chriswell, Meghan Chriswell, Kendra Hall, Danielle Kendall, Jeffrey Miller, Logan Moore, Brittaney Potter, Stephanie Roberts, Angelica Samples, Amala Saum, Kody Schultz, Ryan Swearengin, Jeremy Watkins, Nathan Watkins, Holly Wilson, Jessica Wood, and Samantha Yoak.
Lucky Nickel awards went to second-year campers Tyler Ellison, Ryan Ellison, Jake Jett, Hannah Wilson, and Amber Pennington.
Tribal loyalty patches were presented to Emily Bain, Kenny Chriswell, Jessi Cosgrove, April Frymier, Travis Godfrey, Jake Jett, Ben Laughlin, Brittiny Miller, Amber Pennington, and Brittaney Potter.
Green and white patches for camp leadership went to Elizabeth Duskey, Maria Kisner, Cory Roberts, Anna Sampson, and Caitlin Weaver.
The outstanding first-year camper awards for a $10 return scholarship went to Brandon Andrew, Danielle Kendall, Logan Moore, Stephanie Roberts, Angel Samples, and Ryan Swearengin.
Outstanding Brave awards were presented to JJ Bremar, Hannah Conley, Ashley Houchin, and Dana Thomas.
The Jim and Brenda Jones Memorial Scholarship in honor of his parent for $15 to attend county 4-H camp in 2006 went to Steven Cunningham and Chucky Kendall.
The Deanna Higgs Memorial Scholarship for $15 to attend county 4-H camp in 2006 went to Courtney McKown and Samantha Wilson.
The $15 4-H Camp Fund scholarships to attend county 4-H Camp in 2006 went to Ryan Bremar and Sarah Postalwait.
Furr's Auto Sales, Houchin Construction, State Farm, and Stump Funeral Home made private donations; to send Hannah Conley, Elizabeth Duskey, Amber Pennington, Anna Sampson, and Dana Thomas to Alpha I or II State Camp this year.
Caitlin Weaver was selected a Head H, Matt Houchin as Heart H, Michael Sullivan as Hand H, and Jeff Goodrich as Health H. Katie Walker was the Spirit of 4-H Camp, 2005.
Jeff Himes, WVU Extension Agent acted as Camp Director, Kelley Houchin as Program Director, Diana Shook as Camp Secretary and Nancy Bremar as First-aid Coordinator.
Cabin counselors for the week included Maggie Bennett, Kevin Cunningham, Betty Ellison, Jeff Himes, Kelley Houchin, Phil Kisner, Sandy McCumbers, Keith Poling, Kenny Sampson, Diana Shook, Jim Sullivan, Susan Sullivan, David Weaver, and JoLynn Wilson. Class/craft counselors were Tammy Jett, Shari Johnson, Randall Jones, Sue Jones, Lori Wilson, Jim Yoak, and Karen Yoak.
The price of 4-H Camp was $50 per camper thanks to the successful fund raising done by 4-H Camp Fund through frozen food sales, poinsettia sales, and donations.
Thanks expressed to partners in 4-H on the back of the program book included, Alfab, Inc., Harry F. Anderson, Calhoun Banks, Calhoun Insurance Agency, Inc., Donna Cain, Francis Cain, Dairy Products, Inc., First National Bank of Spencer, Grantsville Lion Club, Hardman Supply company, Deidre Hobbs, Holberts's Self Service, Lew & Lois Holloway, Houchin Construction, Loren B. Howley, Attorney, J&B Drug Store, Richard & Cheryl Jarvis, James & Brenda Jones, Kari McCallister, M&A Well Service, Minnie Hamilton Health Care Center, Morris Oil & Gas Company, Nationwide Insurance, Parsons One Stop, R.P.R. Industries, Inc., Roane General Hospital , Diane Samspon, Shock's Well Service, John Westfall, Ivy & Freda Yoak.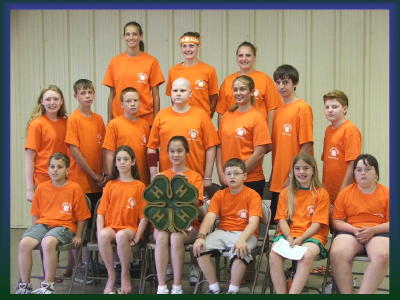 Cherokee Tribe - First Row (L-R)-Ryan Swearengin, April Frymier, Jordan Mace, Brandon Andrew, Kenzie Laughlin, and Holly Wilson; Second Row-Ann Frymier, Chucky Kendall, Tyler Hall, Travis Godfrey, Samantha Bolyard, Ryan Bremar, and Alex McCumbers; Third Row-Courtney McKown, Katie Walker, and Amy Ashley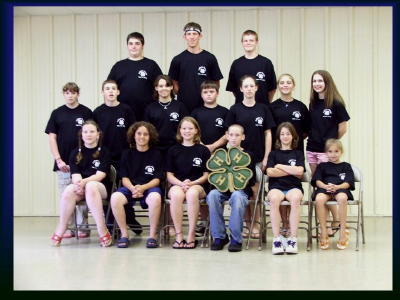 Delaware Tribe - First Row (L-R)-Amala Saum, Brittiny Miller, Hannah Conley, Ryan Ellison, Angelica Samples, and Stephanie Roberts; Second Row-Jacinda Andrew, Austin Moore, Dana Thomas, Jeremy Watkins, Jessi Cosgrove, Ashley Conley, and Sarah Postalwait; Third Row-JJ Bremar, Steven Cunningham, and Cory Roberts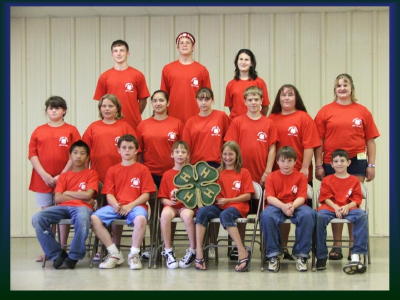 Mingo Tribe - First Row (L-R)-Nathan Cosgrove, Nathan Watkins, Danielle Kendall, Emily Bain, Kody Schultz, and Logan Moore; Second Row-Jessica Wood, Samantha Yoak, Britany Potter, Meghan Chriswell, Ben Laughlin, Hannah Wilson, and Nicole Rader; Third Row-Jeff Goodrich, Matt Houchin, and Elizabeth Duskey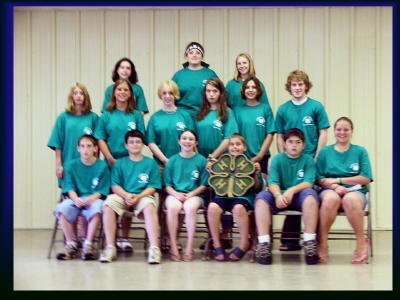 Seneca Tribe - First Row (L-R)-Tyler Ellison, Kenneth Chriswell, Sarah Moore, Jeffrey Miller, Jake Jett, and Samantha Wilson; Second Row-Kendrall Hall, Ashley Houchin, Alea Hinterer, Amber Pennington, Michael Sullivan; Third Row-Anna Sampson, Caitlin Weaver, and Maria Kisner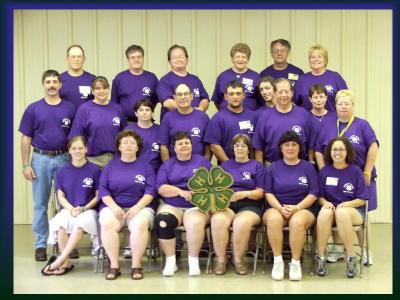 Big Feet - First Row (L-R)Susan Sullivan, JoLynn Wilson, Karen Yoak, Sandy McCumbers, Diana Shook, and Shauna Davis; Second Row-Jeff Himes, Tammy Jett, Betty Ellsion, Jim Yoak, Kevin Cunningham, Jesse Burns, Randall Jones, Maggie Bennett, and Nancy Bremar; Third Row Kenny Sampson, David Weaver, Jim Sullivan, Sue Jones, Keith Poling, and Kelley Houchin