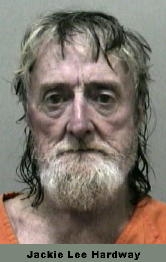 Jackie Lee Hardway, 61, a Roane County man whose home was raided by police last year, is facing federal drug charges after being indicted earlier this year.

Hardway, who lives in a remote area near the Pink Road section of Calhoun County, is facing up to 20 years in prison and a maximum $1 million fine if he is convicted.

Hardway faces five federal counts including conspiracy to distribute methamphetamine, manufacturing meth and possessing a firearm while manufacturing meth.

The incidents occurred on Sept. 10 and Sept. 20, 2004 near the Calhoun-Roane line, not far from Henry's Fork.

Hardway and his son, Leonard Hardway, 32, were arrested by State Police last October after police staged an early morning raid on the elder Hardway's home on Pink Road, near the Calhoun County line.

State Police said the arrests were the result of a five-month investigation that included undercover drug buys.

Police allegedly found methamphetamine and the ingredients to manufacture it. They said 10 guns, including rifles and pistols, were also found in the home.

Hardway's daughter-in-law, Lelia Hardway, is also facing multiple drug charges following authorities confiscating a large number of ingredients used to make meth from her van.

Those ingredients later ignited inside the State Police barracks at Spencer, causing a fire.

Lelia Hardway has also been arrested in relation to the manufacturing of meth, connected to a meth lab discovered at Cremo, Calhoun County.