By Bob Weaver

After delays, hurdles and site evaluation, the ribbon will be cut today on Grantsville's first historical project, the revitalization of the 19th century Stump hotel and the development of a family history center for Calhoun County. The ceremony will commence at 6:30 p.m. today in front of the hotel (inside the adjacent building if there is rain).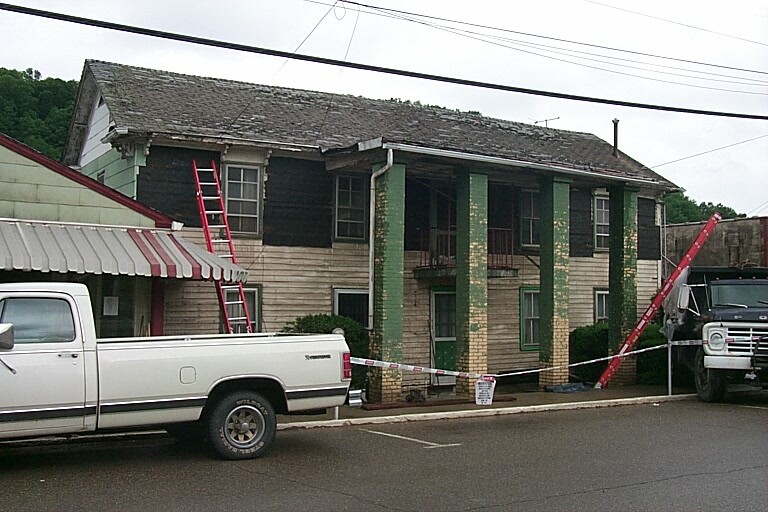 Removed shingles reveal original structure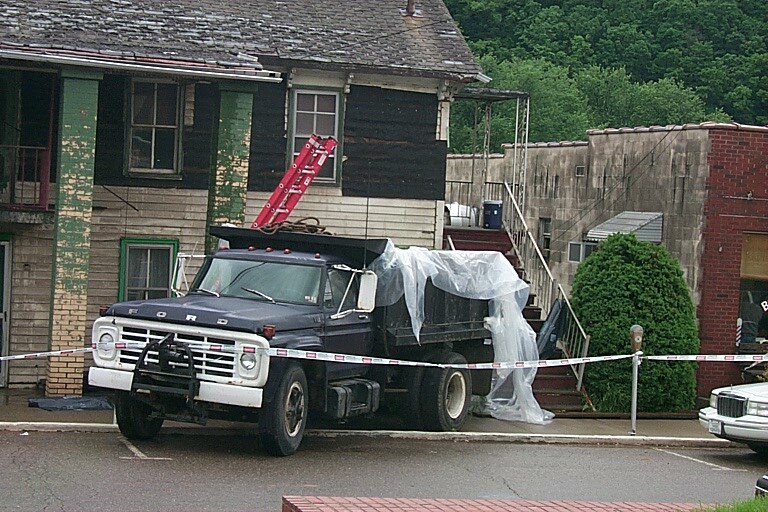 Asbestos siding being removed from 19th century structure

Calhoun County Genealogical and Historical Society President Bob Bonar will introduce the featured speaker, well-known Calhoun teacher, Don McCartney. Bonar will recognize the donated contribution of much of the property between Main and Mill Street by Dr. and Mrs. Charles Albert Stump of Daytona, Florida.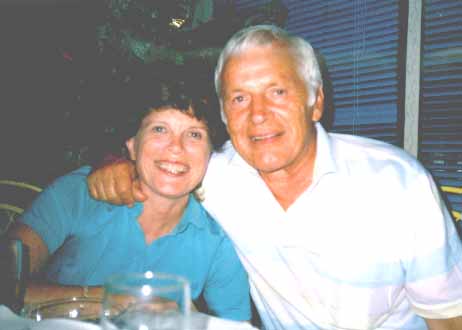 Dr. and Mrs. Charles Albert Stump of Daytona, Florida

Stump is the son of the late Albert and Gladys Weaver Stump of Grantsville, and descendants of the builders and proprietors of the hotel. "We are delighted to give the hotel and adjacent property to the Historical Society for the citizens of Calhoun County," they said.

Harry Beall and Stephanie Curry will provide special entertainment for the ceremony. A reception will follow for members and the public.

The Stump Hotel property, which is being donated to the Calhoun Historical and Genealogical Society, will receive some restoration and be joined with an adjacent building once occupied by State Farm Insurance. Dr. Charles Albert Stump of Daytona, Florida and a grant from the federal government in excess of $200,000 is making it happen. The project, which is expected to house history displays of the area and contain some museum pieces, is expected to get underway this year. The following is an updated story originally published in The Herald:

One of the county's oldest standing structures, the Stump Hotel on Main Street in Grantsville, may be developed as a county museum and family history center, according to Bob Bonar, President of the Calhoun Historical and Genealogical Society.

A $225,000 grant obtained by Congressmen Alan Mollohan and Bob Wise could be used to restore the 19th century building and develop the adjacent lot. New construction attached to the historic building could house artifacts and historical papers pertinent to the county's history.

Dr. Charles Albert Stump of Daytona, Florida, son of the late Albert and Gladys Weaver Stump of Grantsville, and a descendent of the original developers of the hotel, has offered to donate the hotel building to the historical society. The adjacent property extends to Mill Street, and Dr. Stump said he is willing to negotiate a reasonable deal for the additional space.

The Stump Hotel was built about 1885, and originally included a dozen or more rooms in a back section, torn down several years ago. The hotel had a courtyard area with a dug well and a livery stable which fronted Mill Street. Another dozen rooms were added to the structure in 1896.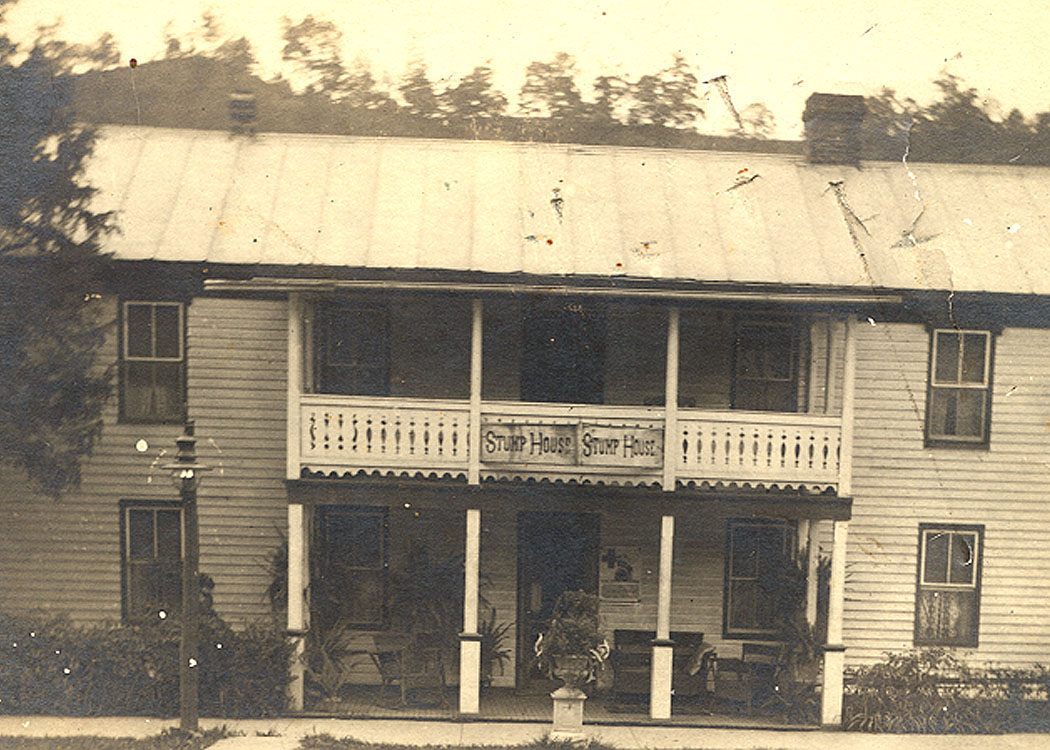 Stump Hotel on Main Street

The hotel was built by the first mayor of Grantsville, A. H. (Dick) Stump on land purchased from the town's founder, Simon Stump. Stump, who was a carpenter and stone mason, operated the hotel for many years with his wife, Druscilla Ball Stump.

Druscilla handled all the money, which Gladys Weaver Stump said she kept in large stone jars. "She did not trust banks," said Gladys. Grantsville poet and artist, Aunt Nettie Stump, daughter of Dick and Druscilla, said her mother lowered some of the money into the dug well for "safe keeping."

"When my father needed money he would sing a certain hymn and one of us would go and get silver dollars from one of the jugs," she said. After her parents death, Aunt Nettie, who never married, continued to run the hotel for many years. During this time she penned a book of poetry "Trail of My Pen."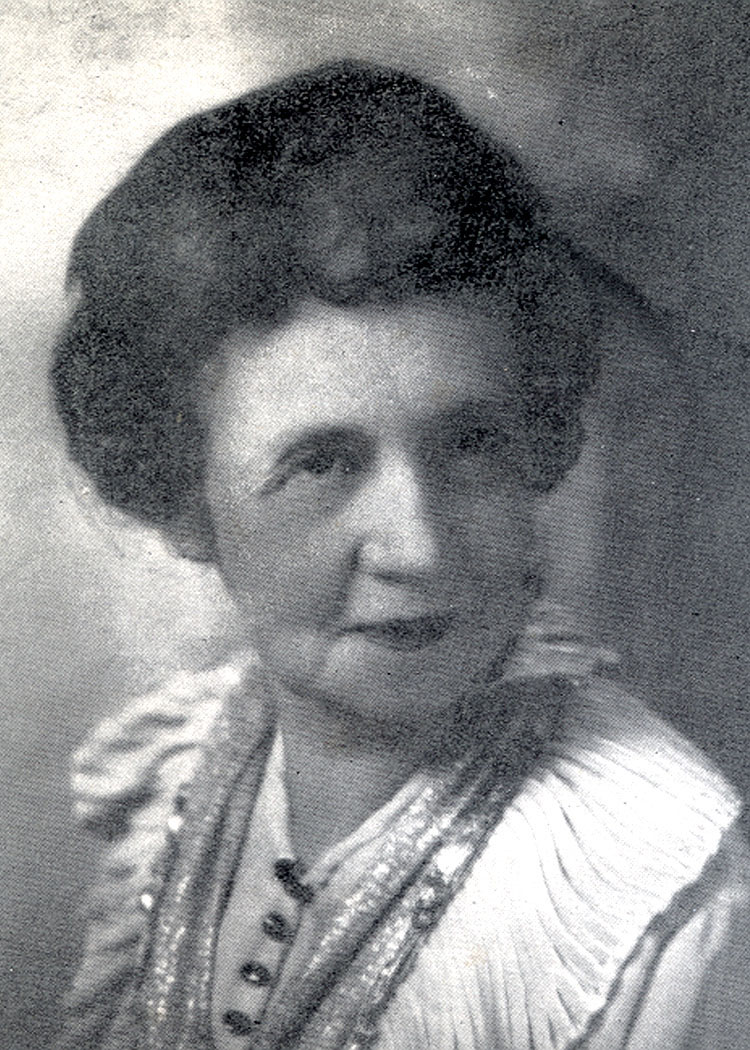 Miss Nettie Stump

A. H. (Dick) and Druscilla Stump had three other children, Ester, Lilly who married Judge Reese Blizzard of Parkersburg, and Charles "Spav" Stump. "Spavy" was one of Calhoun's most fascinating characters, best remembered for his kindness to children, whittling tiny figures from peach seeds, which he gave away.

"Spav," whose habits did not lend well to the cultural pursuits of his sister, Miss Nettie, was often a non-resident of the hotel. He married Edna Frederick and they had three children, Jean Stump Noll, Lucille Stump Henderson, and Albert H. Stump, father of Dr. Charles Albert Stump.

"Spav" was an expert horseman and trainer and ran a livery stable, hauling equipment for the oil and gas fields during the first part of this century. He also owned a sulky, which he hired out mostly to the ladies in Grantsville.

"Spav" was known for his particular dress, knee high boots with leather leggings and a well-worn hat, the apparition of a "lost soldier." He spent hundreds of nights entertaining from the upstairs porch of the hotel, playing his fiddle or other musical instrument for the crowd below, undoubtedly inspired by the fruit of the vine. There are dozens, if not hundreds of tell-tale stories about the character.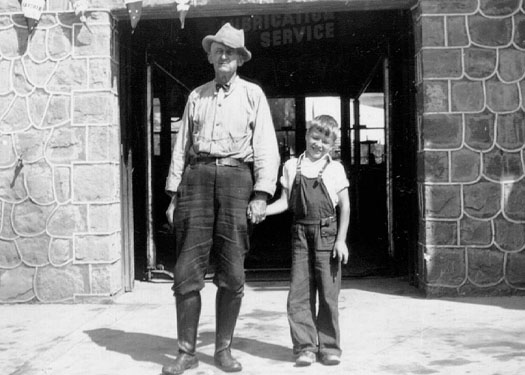 "Spavy" Stump with grandson, Charles Albert Stump

His son, Albert, was a well-known mechanic in Grantsville for many years, along with his wife, Gladys, operated a repair shop, service station and auto parts store.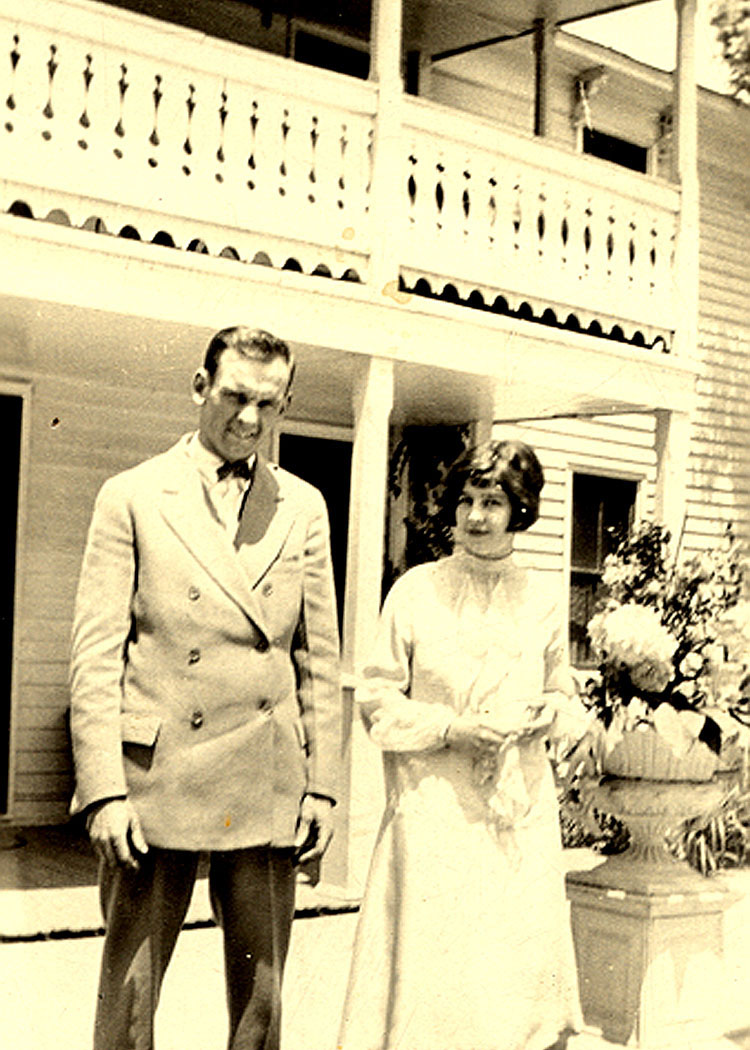 Albert and Gladys Weaver Stump shortly after marriage in 1926

The Calhoun Historical and Genealogical Society will be exploring the possibly of accepting the Stump property as the site for a museum. "In order to better serve the public, the Society has been exploring ways to display and preserve the many items in its archival collection. The funding that Congressman Wise and Mollohan have obtained is a major step toward accomplishing this goal," said the group's President, Bob Bonar.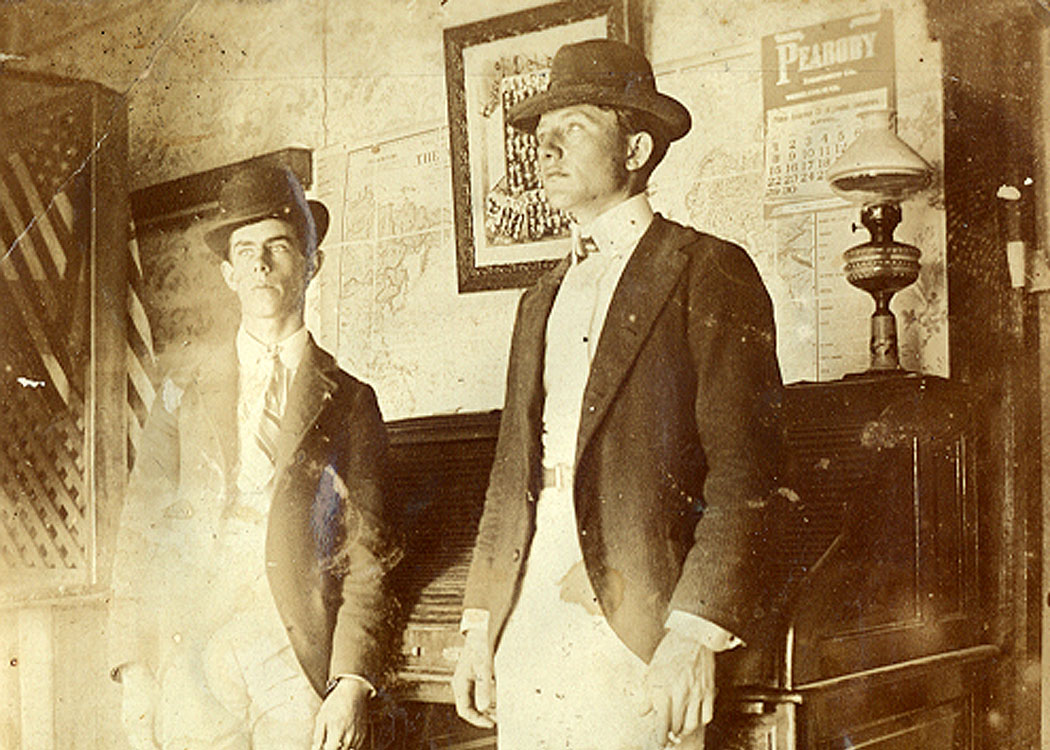 Unidentified Guests at Reception Desk of the Stump Hotel in Grantsville Early 1900's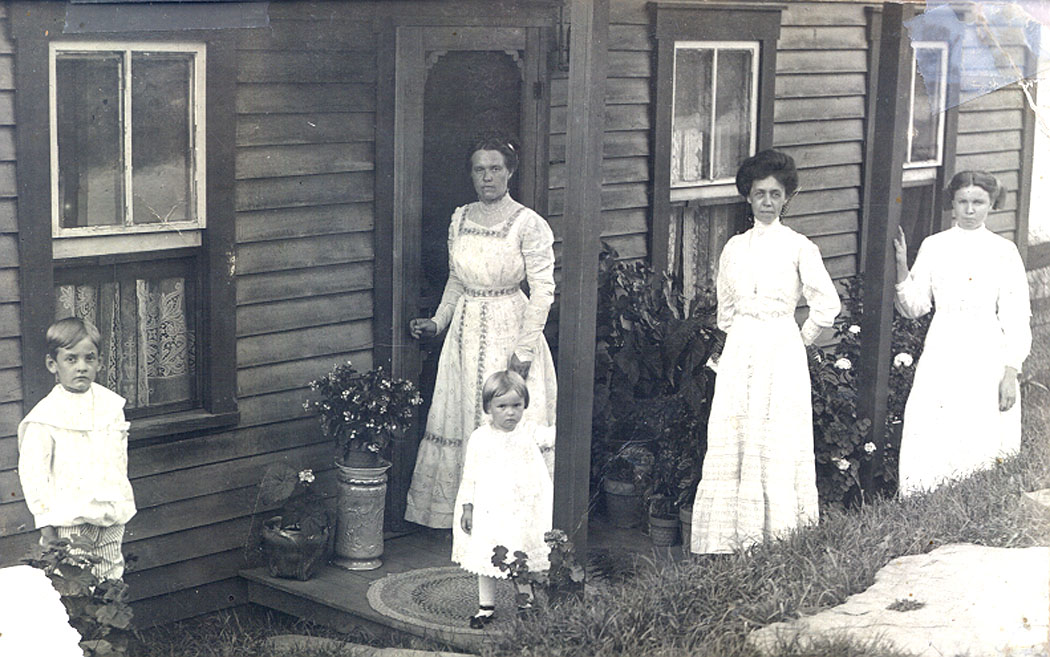 Stump Family in front of Stump Hotel About 1908 Left to right: Albert Stump, Edna Frederick Stump, Lucile Stump (in front of Edna), Nettie Stump, Jean Stump.