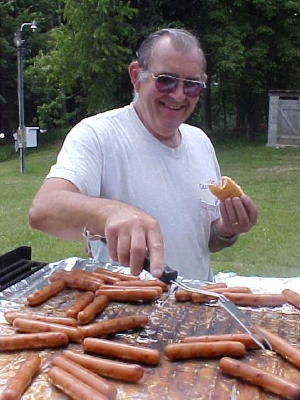 Parker Yeager, a 36-year employee of B.F. Goodrich helps fix the dogs
"A Use-To-Work-Together, Get-Together" for former B. F. Goodrich employees and retirees was held Saturday at Calhoun County Park.
Calhoun's first manufacturing plant of the 20th century - Rubber Fabricators - was sold to B. F. Goodrich in 1972. The company had 300 employees at that time.
Later, the entire Goodrich operation was shifted to Spencer. In 2002 the operation was closed, with 170 workers losing their jobs, about half of them from Calhoun County.
Goodrich lied to workers about not shifting at least part of their operations to foreign counties, essentially to save labor costs, depriving them of a government sponsored re-training benefit.
Later, Goodrich fessed up and workers were given re-training.
Saturday, employees who were former managers and members of the production force, recalled the hey-dey of the company in the Calhoun-Roane community.