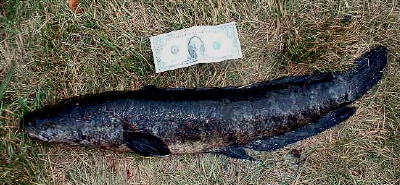 Photo courtesy of Cait Gillespie
for the State of Maryland Department of Natural Resources
Here come the snakeheads!
Campers zip up your sleeping bags.
The fish looks like alien creatures from B-rated horror movies, up to 40 inches long and weighing 15 pounds.
They can live out of water for three days. The fish are capable of breathing air and using their fins as legs to creep along land.
West Virginia wildlife officials are keeping their eye out for the toothy underwater invaders which could bring problems to state streams.
Fifteen Northern snakehead fish, natives of Asia and Africa, have already been snagged from the lower Potomac River this year.
Wildlife experts fear the aggressive creatures may be slithering into West Virginia waters.
The snakeheads first appeared in the eastern United States in 2002. Officials believe they were dumped into the region's waterways.
Scores of the fish have been found in rivers and ponds in Maryland and Virginia, but have yet to turn up in West Virginia.