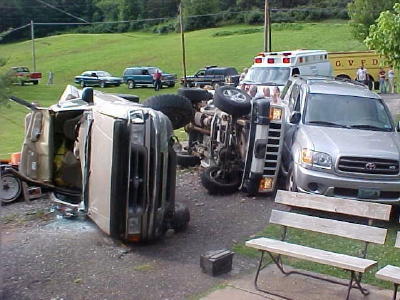 Stevens truck (left) travels across yard, crashes, rolls-over and strikes Jeep Cherokee (center), which also rolls-over and crashes against a
Toyota SUV (right), family members were sitting on bench
Emergency workers extract Stevens from his truck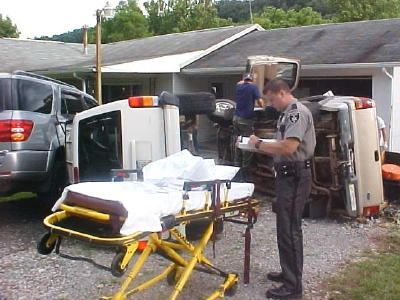 Chief Deputy Sheriff Ron Bandy gathering
information while workers extract Stevens (right rear)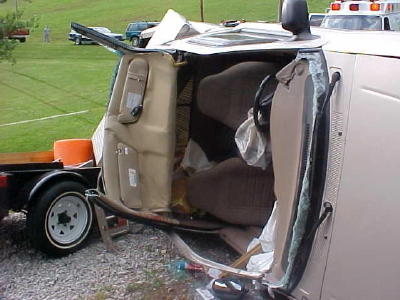 Stevens was taken from this Ford pick-up truck, which crashed
against another vehicle, which then crashed against a third vehicle
Three people barely escaped injury when an out-of-control pick-up truck left State Route 5, traveled about 175 feet across a lawn and crashed against parked vehicles and a small trailer parked in a driveway.
Betty Wilson said she was sitting in front of her garage, a few feet from her foster daughter Danielle Greathouse and her sister, who were resting on a park bench a few feet from the parked vehicles.
"I saw the truck coming across the lawn, jumped from my chair and lunged against the girls," said Wilson. They managed to get about 10 feet away, when the Ford truck driven by Donald "Duck" Stevens, struck a 1999 Jeep Cherokee belonging to Marvin Wilson. Both vehicles rolled over on impact.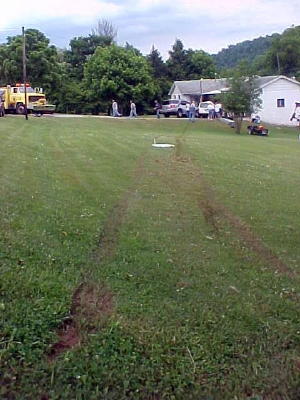 Path taken by Steven's truck
across yard after it left Route 5
Marvin Wilson said he was grateful that his family escaped injury, expressing concern for Stevens.
The rolled-over Cherokee struck a third vehicle, a 2001 Toyota SUV belonging to Betty Wilson.
The Grantsville VFD removed Stevens from his truck, using extraction devices. He was taken to Minnie Hamilton Health Care Center by Calhoun EMS for emergency treatment. A report on his condition was not available.
Emergency services responded to the wreck scene at the Wilson residence at 6:10 p.m. on Route 5, just west of Cabot Station.
Sources at the scene speculated that Stevens could have become ill, causing him to leave the highway, and possibly depressing the gas accelerator, propelling it across the lawn.
Chief Deputy Sheriff Ron Bandy said the investigation of the accident will continue.
Stevens is well-known to the Calhoun community for assisting Jim Bell with the ever-famous fish fries and his work on the historical village at Calhoun County Park.