By Alvin Engelke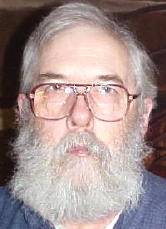 By Alvin Engelke
Jane & Nancy Engelke, along with Susan Myers, motored to Atlanta on their way to a family gathering in usually sunny but now rainy Florida. Some have said that the present hurricane cycle will last for a mere 10 years. They stopped in the Carolinas for the night and when Jane went out to her chariot to get some stuff in the morning she found that someone had broken out the glass in the passenger door and had been helping themselves to the suitcases. She returned to the motel to report the theft and while she was inside the thieves returned and took her husband's golf clubs and whatever they hadn't already made off with. The police indicated that this was a daily occurrence in the neighborhood as some "were despoiling the Egyptians" no doubt to obtain refined cocaine. The local Toyota dealer wasn't very helpful but the Atlanta dealership was first class and provided them transportation to a mall while a new glass was being installed so they could shop for enough threads to continue on their journey.
The travelers made it to the Martin family reunion in Melbourne Florida and there were 32 members present. They surprised 97 year old Harold Martin's father by almost all going to church with him. They filled up half of the pews. Several of them came down with sunburns and Sunday evening a number were out hunting for 300 lb sea turtles that are now making their landing. Some plan to visit the space facilities at Cape Canaveral.
Tusky Shaw fetched his tractor down so he, Cap'n Eddie, Fred and some others installed the merry-go-round. They also set up part of another sliding board for the younger set.
There is a lost white German Sheppard dog in the Creston area with a red nylon cord. The lost canine is two years old. Should anyone find him please call 275-3099.
Carl Ferrell's cherries are ripe now and very tasty. No doubt he is hoping that Donna Sue bakes him some tasty pies.
There was a sing Saturday night at the church at Ground Hog. Among the singers were Janet Jett and the comely Sierra Starcher.
The Little Kanawha Shrine Club will have an ATV poker run at the Jack dePue farm at Creston Saturday June 18. Sign-up starts at 9 A. M. For details call 275-3738.
Jeannie Westfall was visiting area relatives and friends over the weekend.
The Mountain State Folk Festival is in Glenville this weekend. Those who love good old time fiddle and banjo music will not find any better elsewhere.
The state road crew has started work to repair the bad slide on W. Va. Route 5 down at the old Tom Alec Hopkins place. Steel piling has been brought in and the ditch was filled in so traffic can get around the equipment.
The Shimer reunion was held May 29 at the Creston Community Building. The table was loaded with food, plentiful & delicious and folks came from far & near. Rev. William Villers & wife Sherry came the farthest driving in from Alabama. DeWayne Stutler, Jerry Shortridge, Beth & Jeff Biagett and children Nico & Sarah, Terry, Kathryn & family, Kathy Pritchard and Bethany, Richard and Marcia Shimer were from the Barberton area. Donald & Polly Boltz, Donnie and Andrea came from Elkins, also Delores Davis and daughter Moureen Rameriz, Darrell Villers' daughter Pat Bowers, Noel Roberts, Fred, Evelyn Bowman and grandchildren Michelle, Rachel & Alan Bowman. Billy & Sherry Villers won the prize for coming the greatest distance and DeWayne Stutler won for having the most family present & his smallest great-grand daughter (Megan Anderson) won for being the youngest present.
After eating and visiting every one departed to decorate the graves at the different cemeteries where loved ones are resting. The family noted that they were grateful to have a very nice and well-kept facility for their reunion.
Butch Deer's trucks were in the Creston area hauling crude oil. The price for local Penn grade oil fell over the weekend to $50/bbl.
Alvin Engelke motored to Albany New York to attend a Hydrothermal Dolomite Core workshop & field trip. On the way up he visited Anna in Middletown Virginia and was treated to a meal of venison and cornbread. Anna also took him over to see Keith Collins' new (to him) house at Front Royal.
The field trip was to an old quarry in the Mohawk River valley that had Beekmantown equivalent rocks (Tribes Hill) that had dolomite lenses in the surrounding limestone that were miniatures of the pay zones that make the Trenton/Black River wells the quest of lots of drilling activity. A recent well was reported to be feeding 40 million cubic feet/day, which would be something over $1.5 million/week. Terry Pegula's East Resources (They have many of the old Pennzoil leases.) had already taken the tour while representatives of Columbia and Dominion, along with many other companies and consultants looked and studied the samples and viewed the exposed formations. It was hot and for the afternoon break on the field trip the New York State museum even provided some cool ones for the scholars.
On the way back Alvin missed a sign somewhere southwest of Williamsport Pennsylvania so he ended up over near duBois. He then drove by Ground Hog Plaza in Punxsutawney and down through Indiana and Ohiopyle on the Youghiogheny River and then back to Bruceton Mills. He noted that there was a lot of drilling activity in Pennsylvania. He also noted that, especially in Pennsylvania and New York holes in the concrete roadways were not fixed and in some instances pieces of concrete actually littered the roadway. One might think that some folks were in cahoots with the tire and wheel sales folks and the operators of alignment shops. It was also noted that there is an abundance of roadwork in the Fairmont area which just happens to be the home of the new boss man down at the Mouth of the Elk River. While in Albany he also saw a replica of Henry Hudson's ship, The Half Moon and a WWII destroyer tender that shipshape and ready to get the Chicoms and other enemies of the nation.
A significant amount of hay has been made although there is still much to cut. Tobacco has been set out and seems to be doing well.
Waste Management which is a New Jersey based (it is said) trash hauling outfit has filed down at the Mouth of the Elk for an increase in the rates for picking up local refuse. A copy of the new rates can be obtained at their dump [landfill] down on Dry Run Road in Parkersburg and folks may file objections with the State PSC.
Lula Hughes twin 10 year old great grandsons recently celebrated their birthdays at Sportsman's Park in Elizabeth.
Mary Schrader fell and broke her ankle.
Estimates are needed for painting (and doing such repairs as are necessary) to the roof of the Creston Community Building. Bids should be submitted to Alvin Engelke, HC 70 Box 295, Creston, W. Va. 26141, phone 275-3578. The trustees will review the bids and the work should be done during the first two weeks of July. The deadline for bids is June 30.