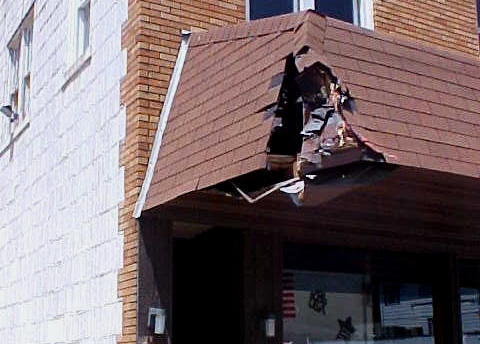 18-wheeler lodged against store canopy, attempting turn on River Street
Two juveniles who walked away from a Harrison County detention center were taken into custody Sunday morning, after an 18-wheeler they were driving lodged against the canopy of Pursley's Furniture in Grantsville.
While the juveniles did not attempt to flee officers, they reportedly crawled into the sleeper compartment.
Officers, unaware of who was in the truck, asked the suspects to surrender. When they did not, they used pepper spray, after which the juveniles gave no resistance. They were taken into custody at 3:30 a.m.
The two 15-year-olds led several police cars on a slow-speed chase across three counties, coming through Glenville and traveling west on State Route 5.
Calhoun Sheriff Carl Ballengee, who was on a Gilmer County highway when the incident unfolded early Sunday, said the truck speed averaged about 35-miles-per-hour.
Police first suspicioned a drunken driver was at the helm.
Several attempts to stop the tractor-trailer failed, including one effort by Trooper 1st Class Jeff Hunt on State Route 5.
The movement of the truck was reportedly being monitored by satellite.
When the rig entered Grantsville at the intersection of Route 5 and Route 16, Grantsville Police Chief Ron Gordon had cleared the area and was stationed at the intersection.
The rig drove straight through, turning left on Main Street, followed by several police cruisers.
"We're grateful everything ended safely. Law enforcement did a good job dealing with the incident, dangerous as it was," said Gordon.
A number of spectators came to town to witness the early morning event.
The youths were turned over to the DHHR and juvenile authorities.
SEE earlier Herald story.