By Bob Weaver

Eighty-Four students in the Class of 2001 graduated from Calhoun High School last night. Principal Greg Cartwright said it was a "small but mighty" class, praising their academic efforts and talents. "It is always a grand and glorious celebration," said a school board member.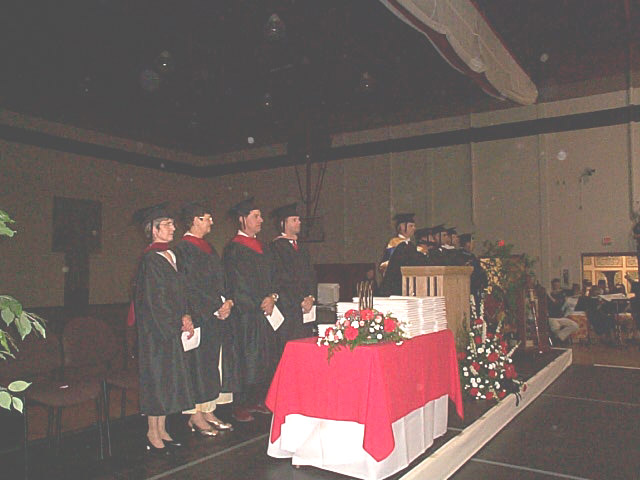 School officials welcome parents and students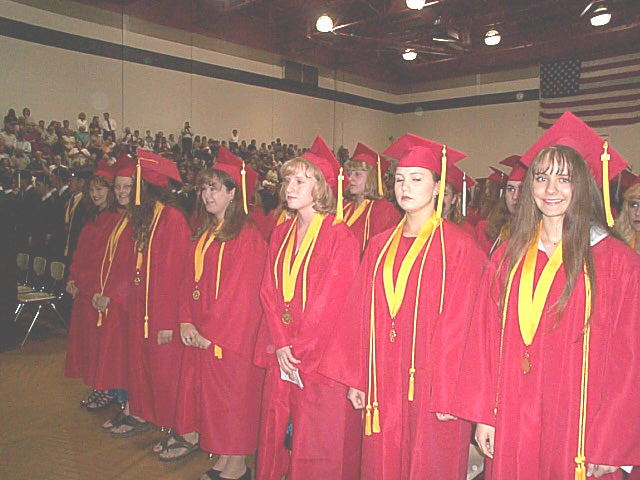 Graduates prepare for ceremony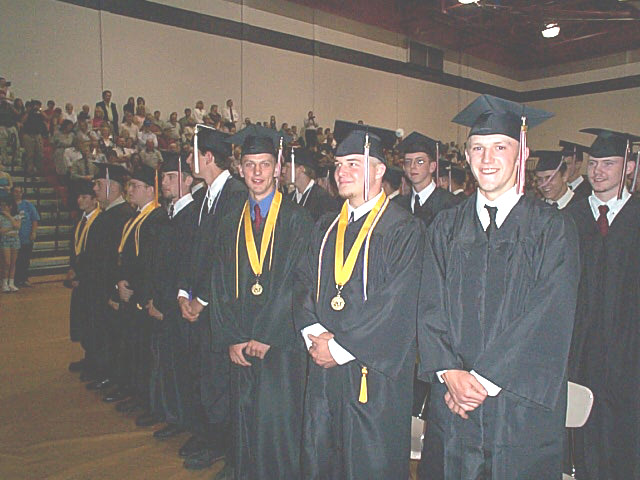 "Small but mighty" Class of 2001

"Seventy-one percent of this class intends to go on to a four-year, two-year or trade school," he announced. "Of those students (60), thirty-six have received scholarships amounting to $416,395." Cartwright said many of these students are outstanding scholars and deserve praise.

Valedictory speeches were made by Justin Hartshorn, Monica Offutt and Candace Stalnaker and the class Salutatorian Darlene Lamont, gave an address to the parents, students, teachers and guests that packed the school gym, wall to wall.

Principal Cartwright gave special recognition to eighteen students who received the Presidential Award for Educational Excellence.

The school choir, under the direction of Faye Chambers, sang "Wherever You Go" and "I Will Remember You." CHS band director Jack Downs raised his baton for the final time last night, retiring from his teaching career.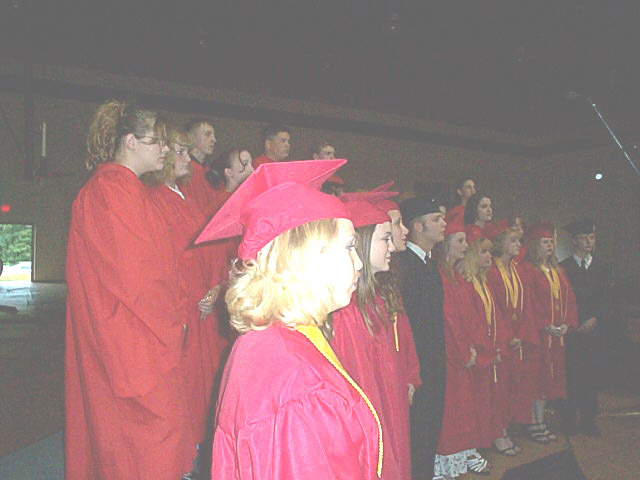 Choir sings, "I Will Remember You"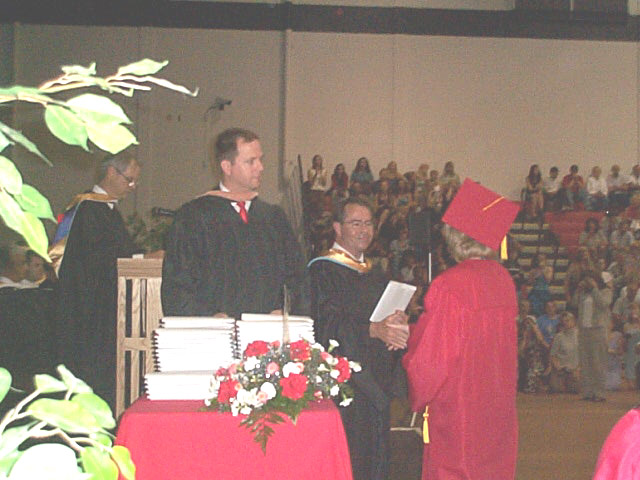 School Board President, Rick Fitzwater and Superintendent Ron Blankenship present diplomas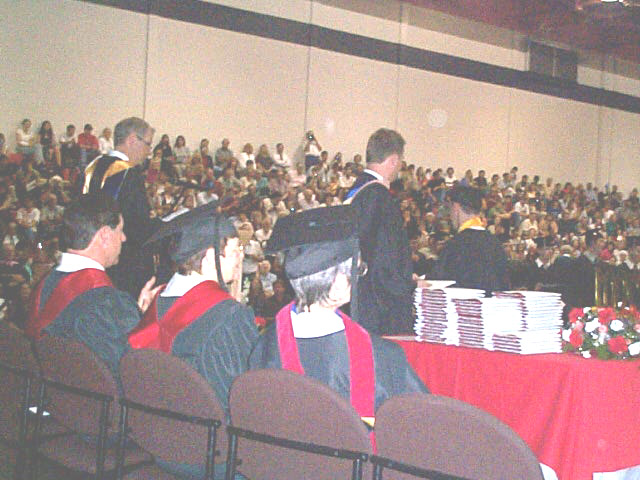 CHS gym filled to capacity

A power-point show flashed pictures and captions of class members on the wall, creating joyous cheering for fellow classmates. After Superintendent Ron Blankenship formally accepted the class, members threw their caps in the air in celebration.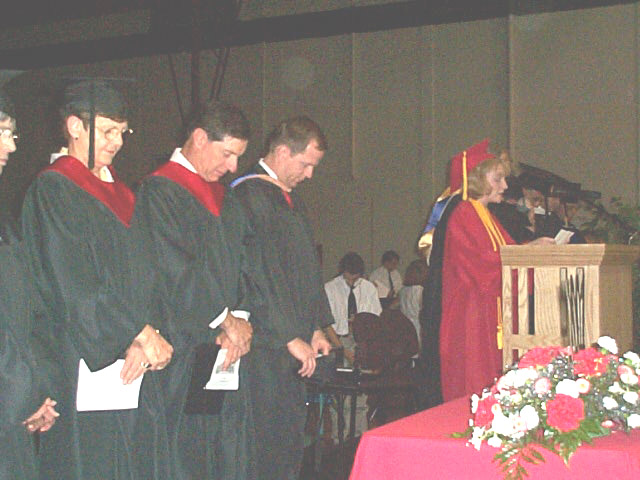 Class was solemn but joyous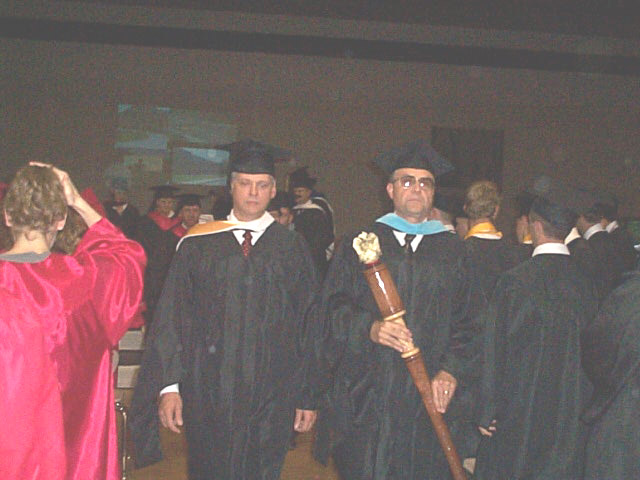 84 students graduate
New journey begins

Principal Greg Cartwright spent much of the evening presenting Class of 2001 Scholarships:

Christeallia Amorosi, Pennsylvania State University, Lion's Club $500

Samantha Bailey, Marshall, Michael Perry $500

Kristi Leigh Cain, Marshall, Presidential Scholarship $1,250, Wal-Mart Scholarship $1,000

Samara Church, West Liberty State College, United Methodist Church $250

Kevin D. Cunningham, Berea, 4 year scholarship-$75,000 Cunningham-Wilson $500/yr ($2,000), Danny & Luke Hickman ($500)

Sarah L. Cunningham, Valley Beauty School, $500 Valley Beauty School

Lora Davis, Glenville State College then Marshall, HSTA /tuition & fee waiver ($10,236), Leonard & Gladys Marshall $500, John C. Shaw $200, Pioneer $500

Travis Deuley, Glenville State College, Band Booster $500, American Electric Power $625

Joshua R. Ferrell, Fairmont State College, $200 Dairy Products

Leah Fiedorczyk, Glenville State College, Cunningham-Wilson Local $300

Falisa Gibson, Indian River Community College, Job-Champs BFG $250

Morgan Grahame, Davis & Elkins College, Senator Scholarship $7,500/yr, Drama Grant $3,000/yr Total Value from Davis and Elkins-$46,000, WV First Generation Scholarship $1,000

Jessica Greathouse, WVUP Minnie Hamilton Scholarship $756 per semester for 4 sem.($3,024), Mildred R. Jarvis Memorial Scholarship from J&B Drugstore $300, Olin Hill Memorial Scholarship

Sarah Hall, Concord College, Concord ACT $500/yr ($2,000)

Betsy Harris, West Virginia University, HSTA fee waiver, WVU ($7,200) Academic Award $1000

Justin Hartshorn, Marshall, Governor's Honors Academy-Tuition waiver ($10,480), United Methodist Scholarship $500 Calhoun County Bank $750, Mildred R. Jarvis Memorial Scholarship from J&B Drugstore $300, Top of the Mountain Academic Excellence

Tiffani Johnson, Fairmont State College Trader's Bank $500, Leggett-Reeg Memorial Scholarship $3,000

Darlene A. Lamont, Glenville State College McKelvey Foundation $500, Calhoun County Bank $500, Claudia Kelly Hays Memorial $1,500, Fred H. Killingsworth & Lucy Francis Killingsworth $500, John C.Shaw $200, Pioneer $500(Renewable) Total Value $20,000

Chad M McDonald, . U.S. Marine Parris Island, SC then attend College Montgomery GI Bill $50,000

Jessica L. Miller, WVUP, Minnie Hamilton Memorial $1,512, Calhoun-Gilmer Career Center Scholarship $100

Nina Norman, International Salem University, BFG $250, International Salem University $4,000

Monica Offutt, WVU WVU Presidential Scholarship $1,500 per semester ($12,000), WVU Valedictorian Scholarship $1,000/yr. ($4,000) HSTA Tuition Wavier $900 per semester ($7,200), Secondary School's Principal's Association $1,000, Calhoun County Bank $750, Helen Shaw Memorial Scholarship $100, Top of the Mountain Academic Excellence

Ashey Poling, Concord College, HSTA Tuition Waiver (20,960), Concord ACT $500/yr ($2,000), Concord GPA $800/yr ($3,200), Concord Legislative $500/yr ($2,000)

Brandi Richards, Concord College, Concord Legislative $500/yr ($2,000), Concord Delegate $500/yr ($2,000)

Crystal Diane Richards, Alderson Broaddus College, $5,500 Academic Merit/yr Total $22,000, $2,049 Evert Susan Endowment Scholarship, Federal Work Money $1,400,Federal Perkins Loan $2,000,Federal Direct Subsidized Loan $2,625 , Calhoun-Gilmer Career Center Scholarship, $100 Alternate for Leggett-Reeg Memorial Scholarship for $3,000

Melanie Ritchie, Glenville State College Drexel Ice, $400

John M. Sampson, Glenville State College, Calhoun County High School Alumni Association Scholarship $1,000

Bonnie Shreve, WVUP Classroom Hope Scholarship $500, Hershel C. Price $1,250

Joseph J. Smith, Calhoun Gilmer Career Center Lion's Club $500

Amber Snider, West Liberty State College, $200 Dairy Products

Marie Sorokin, WVU, Mountaineer $5,000, Top of the Mountain Academic Excellence

Candace Stalnaker, Marshall, Presidential Scholarship $1,250, HSTA Tuition Waiver $926/sem.30($7,408), $750 Valedictorian Scholarship, From Calhoun County Bank

Heather R. Walker, Glenville State College Alternate for Calhoun County High School Alumni Association Scholarship for $1,000

Derek Westfall, International Academy of Design and Technology, $5,000 from International Academy of Design and Technology

Scottie Westfall, West Virginia Wesleyan, (WVWC United Methodist Grant-$4,500 yearly, Academic Scholarship $7,500). Total Value from Wesleyan College-$30,000, Helen Shaw Memorial scholarship $100

Andrew Whipkey, West Virginia Wesleyan, Asa Andrew Stemple Scholarship $500, WV Wesleyan Academic Scholarship $7,500, Wesleyan Education Fund $1,500, Total Value-$30,000