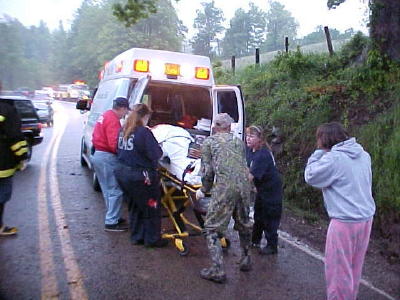 After long-patience by emergency personnel,
the man is readied to receive medical treatment
The driver of a pick-up truck turned combative following an early morning wreck on Rt. 16 near the Mt. Zion Church.
The man started throwing punches at Calhoun EMS and Grantsville VFD personnel when they attempted to assist him. He appeared to be suffering from a severe laceration to the head.
Chief Deputy Ron Bandy of the Calhoun Sheriff's Department negotiated with the the male subject to accept medical treatment.
"This kind of thing is difficult to handle, when the man appears to be suffering from an injury," said Bandy.
The subject struck a fire truck with his fist when it arrived on the scene, denting it.
He then managed to get off an ambulance cot more than once, throwing swings at emergency personnel.
He was eventually transported to Minnie Hamilton Health Care Center and then flown to Charleston Area Medical Center by HealthNet for treatment of head trauma.
A passenger in the truck was also taken to MHHCC.
Traffic flow was disrupted on Rt. 16 for over an hour.