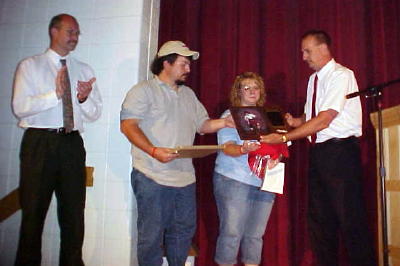 Carl and Judy Brannon, parents of 15-year-old Randy Brannon (center) receive his jersey and other remembrances from wrestling coach Mike Stump (right) and football coach Byran Sterns (left)
It was a night of joy and sadness, the All-Sports Banquet held Friday at Calhoun Middle-High School. Calhoun athletes were honored for their efforts and accomplishments, but the evening was somewhat dampened by two recent deaths, an old CHS athlete and long-time program supporter and a 15-year-old athlete who recently died in a tragic motor-vehicle accident.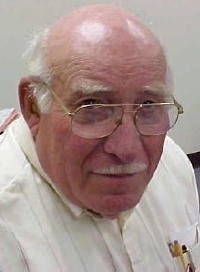 The evening was dedicated to Lee "Ox" Johnson, 68 (pictured left) affectionately known as one the the "Three Amigos," who with his associates have supported and contributed to the maintenance and development of sports at Calhoun High for several years.
Johnson died May 4th. (SEE "The Ox Has Died" - 05/06/2005)
Johnson and his group had embarked on an ambitious program to establish a Wayne Underwood Museum at the new athletic field, which included enclosed box seats which could be sold as a fundraiser for sports programs.
Lloyd Wright, longtime friend of Ox, fellow classmate, and one of the Amigos said "It's hard to believe he's gone. We talked by phone almost every day. He was one of the most outstanding men I have known in my lifetime."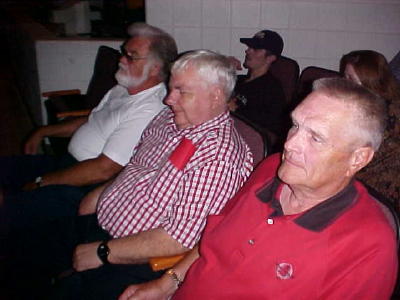 Remembering Ox (L to R) Wright, "Boozy" Wolverton and Junior Smith
Wright said Johnson's ashes will be returned to his beloved Calhoun County. "We hope to carry on his work," he said.
Football coach Bryan Sterns told parents "You should be proud of your young men and women. They've been great!"
Sterns and wrestling coach Mike Stump presented Carl and Judy Brannon several remembrances in honor of their son, 15-year-old Randy Brannon, who was killed in a truck accident.
CHS athletes circled the Brannon family with their sympathy and support these last weeks, following the ill-fated accident.
While the entire auditorium rose to their feet, Stump said "It is times like this that we all must struggle ... but we will remember."