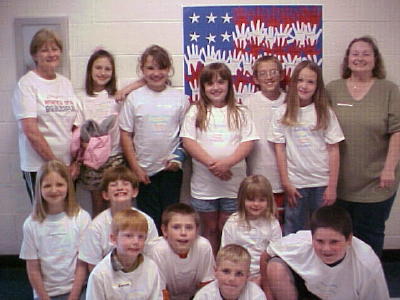 Submitted by Diana Shook Bailey
The Calhoun County Community Education Outreach Service organization (CEOS) along with WVU Extension Service had the final week of "Character Counts" during the after school "Heads Up" program at Pleasant Hill Elementary School on May 10.
The six pillars of character were discussed: Trustworthiness, Respect, Responsibility, Fairness, Caring, and Citizenship. All children took home a place mat, a flower to plant, and a T-shirts the last night.
Thank you to all who donated time and supplies for Character Counts.
1st Class: Macy Jones, Christopher Thornkin, William Daniels, Austin Gribble, Tesk Hartline, McKayla Phillips, Jeffrey Miller, Courtney Lewis, Timothy Richards, Daerra Stull, Cole Boatright, and Mallory Curry.
2nd Class: Mariah Jones, Samantha Jones, Jordan Smith, Jeremiah Marks, Jessie Richards, Katelynn Daniels, Chelsea Hicks, Cheyenne Ohse, Bailie Cain, Delaney Cunningham, Mykiah Holbert, Daniel Greathouse, Sabbath Lynn, Lucas Wilson, and Brandon Checkan.
3rd Class: Savannah Rogers, Joshua Settles, Zaylah Taylor, Brittany Hartline, Sara Hayes, and Johnathan Taylor.
Donations of time: Pat Radabaugh, Diana Shook, Brenda Radabaugh, Jean Husk, Christina Miller, Marcia Swisher, Emily Gainer, Sue Collins, Janet Cunningham, Sandy McCumbers, and Jeff Himes.
Donations of supplies: Spencer WalMart, Grantsville Dollar General, Sims Greenhouse in Wirt County, Grantsville Foodland, Hardmans, and Family Dollar.