Billows of smoke blocks sunny sky along State
Rt. 16 at Ronald Lane Used Vehicles And Trailers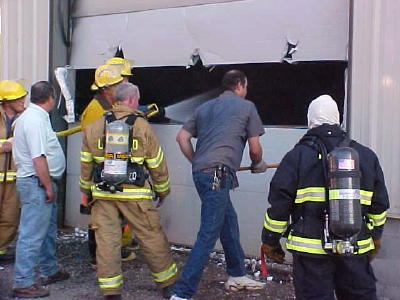 Lane examines structure as firemen continue to douse blaze
Arnoldsburg and Upper West Fork firemen
enter burning building using breathing apparatus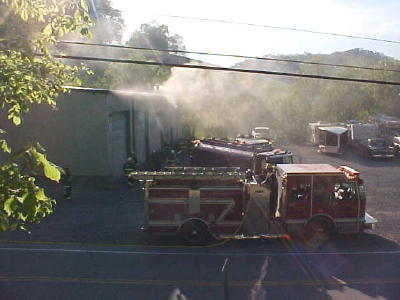 Flammables prove pesky in putting out blaze
Fire extensively damaged Ronald Lane's shop and vehicle sales at Arnoldsburg Monday evening.
Billows of black smoke covered the area from what was described as tires, oil and other flammables inside the building.
Fire Chief Joe Tanner said the smoke was "very toxic." The fire was brought under control quickly, but it continued to cause problems.
Tanner said it appeared the fire started from a truck that was on a lift in the shop area. "Considering the building had lots of combustibles, including acetylene tanks, we were fortunate," he said.
Two adult occupants of a second story apartment smelled the smoke, called 911 and fled the building with two children, ages six and nine. They said the building filled with smoke very quickly.
None of the occupants were injured.
Most of the building had water and smoke damage. The upstairs apartment received smoke damage.
Although the Arnoldsburg VFD arrived very quickly since firemen were at the station for drill, the fire stubbornly held on as firemen entered the building with breathing apparatus, applying water.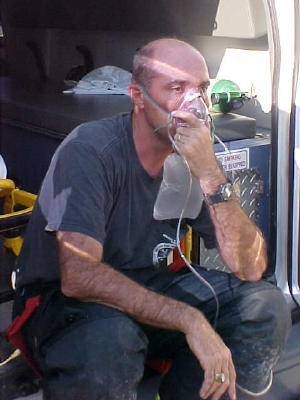 Stanley Little is administered oxygen
after being overcome, later taken to hospital,
one other firemen suffered smoke inhalation
Fire Chief Joe Tanner and firemen Stanley Little were overcome by smoke when they had problems with breathing apparatus. Little was taken to Minnie Hamilton Health Care Center for treatment and Chief Tanner returned to the fire ground.
Owner Ron Lane returned to Arnoldsburg after he was notified by family members about the fire. He said employees had been working on some vehicles earlier in the afternoon before the shop closed.
The Upper West Fork VFD also responded to the blaze, which was reported shortly after 6 p.m.
At least four fire trucks responded to the call and about eighteen firemen.