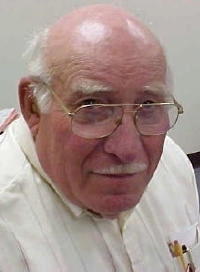 "Ox" Johnson's funeral is Saturday.

Services will be 3 p.m. at Sunset Memorial Funeral Home, Parkersburg, with Dr. John Powell officiating.

Burial of cremated remains will be in the Johnson family cemetery in Calhoun County, at the family's convenience.

Visitation will be 2-4 and 6-8 p.m. Friday and 9 a.m. until the time of services Saturday at the funeral home.

Memorial contributions may be made to the Mid-Ohio Valley American Red Cross Building Fund, and the Coach Wayne Underwood Memorial Museum c/o Calhoun County Bank.

Lee "Ox" Johnson, 68, of Washington, W.Va., died May 4, 2005, at Ohio State University Hospital in Columbus.

He was born Aug. 14, 1936, in Grantsville, W.Va., a son of the late Willard C. and Opal Harris Johnson.

He graduated from Calhoun County, class of 1955; he was a veteran of the U.S. Army serving in Germany; and he retired from GE after 30 years of service as a chemist/safety supervisor. He also loved and played football for Calhoun County High School, The Berlin Bears in Germany, Marshall University and Salem College.

He was a registered nurse and volunteer for numerous years for the American Red Cross; he was a member and served as president of the Region 5 Emergency Medical Services Board; was a commissioner for Lubeck Water Department and he belonged to several fraternal organizations in the area.

He is survived by his wife of 44 years, Dawn Satterfield Johnson; four daughters, Linda Johnson of Parkersburg, Linnie Johnson, Luinna Sherwood and husband, Gary, and Larene Johnson, all of Washington; one granddaughter, Abigail Lea Sherwood; two sisters; and five brothers.

In addition to his parents, he was preceded in death by three sisters, and three brothers.