Submitted by Jessica Richards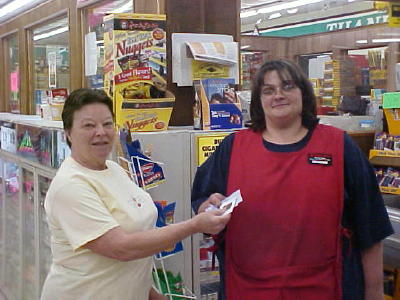 Janet Richards (L) and Becky Davis (R)
Becky Davis was the winner of the Paw Print sale, a fundraiser for the Calhoun Humane Society's building development.
Becky finished with 90 points and was awarded a free dinner for two at Ponderosa in Vienna and free movie tickets for two at Grand Central Cinema.
Society members would like to thank Foodland in Grantsville, the cashiers and participants for supporting the project.
Future site of Calhoun Humane Society
will be located on Nobe Road at Five Forks
Thursday May 12 at 2 p.m., the Calhoun Humane Society will have their regular monthly meeting at the Koffee Kup Restaurant in Grantsville. We will have a full agenda, as we continue to discuss and finalize the building plans of the new facility plus many of the future projects we have planned. We invite the public to attend, we welcome and value any input you may have in this joint venture.
We thank each of you for your support. No matter how small you think it may have been, it is a giant step into the future as we leave behind a legacy and we care for "God's Creatures" who cannot care for themselves.
Mark Twain said, "If you pick up a starving dog and make him prosperous, he will not bite you; that is the principal difference between a dog and a man."
Together we can make a difference.
Ruth Beall, President Board of Directors
Calhoun Humane Society