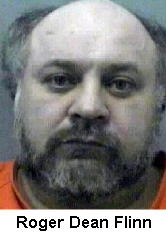 Details about a bloody Wirt County double murder came to light yesterday during a hearing in Wirt County Circuit Court.

Roger Flinn and Russell Ray Eastham had a troubled history, which may have led to Flinn shooting Eastham and his girlfriend Sylvia L. Fittro.

A few weeks ago, Flinn and Eastham had an altercation in Elizabeth, and authorities arrested Flinn.

During the hearing, Flinn's nephew Daniel Neptune testified he was driving Flinn around the evening before the murders, looking for beer and a place to hang out.

Neptune said he sold Flinn a handgun for $50, which he allegedly put under a floor mat in the truck.

Neptune decided to drive over to the Eastham and Fittro house near Palestine, he said in hopes of getting more beer.

He then testified they got out of the truck and Flinn went on the porch of the house along State Rt. 14 and knocked on the door.

When no one answered, Flinn kicked in the door and assaulted Eastham by pushing him into a wall.

Neptune testified the two began to argue about the assault charges filed in Elizabeth. The female, Fittro, got out of the way and went to the rear of the residence. Eastham was then shot by Flinn, about four or five times.

"He (Eastham) fell back and didn't get back up," Neptune said, with Flinn going through the house kicking in doors. Neptune then heard another shot, apparently the one that killed Fittro.

Neptune and Flinn then left the residence.

Neptune said Flinn gave no explanation regarding why he shot the couple.

Neptune said he took a different way home back to Elizabeth, taking the gun from Flinn and throwing it over a hillside.

He told the court "I didn't want to get caught and get tangled up in this like I am now...the gun came from me." Neptune located the weapon for authorities.

The State Medical Examiner's office said Eastham and Fittro died of gunshot wounds to the head. Eastham also had a shoulder wound.

A Wirt County deputy testified they followed up on other suspects, including one in Roane County. That suspect was eliminated because he was on home confinement at the time.

Flinn faces life in prison.