Authorities have yet to comment on a motive in the brutal slaying of two Wirt County residents.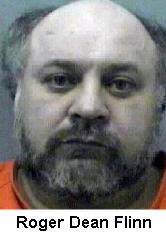 Roger Dean Flinn, 43, of Elizabeth (pictured left)appeared before Judge Robert Waters of the Wirt County Circuit Court earlier this week on murder charges. He is being held without bond in North Central Regional Jail.
Waters read the charges, saying Flinn is accused of "feloniously, willfully, maliciously and deliberately with premeditation did slay, kill and murder" Russell Ray Eastham, 21, and Sylvia Lea Fittro,19.
Funeral services were held yesterday for both victims, Eastham in Elizabeth and Fittro in Clarksburg.
Both Eastham and Fittro were former Roane County High School students.
The couple were shot to death on April 1 along Rt. 14, between Lucille and Palestine.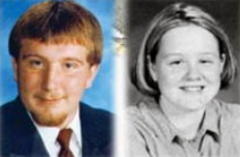 Photos from The Accolade (the Roane County High School yearbook)
www.thetimesrecord.net
A witness has testified that Flinn broke down a door and shot the couple, leaving a 10-month-old child uninjured.
Eastham left a bloody trail down State Route 14, apparently fleeing for his life.
Flinn could face life in prison on each charge.
A fund has been set up at Calhoun Banks Elizabeth for the 10-month-old infant that was found near her mother's body.
Contributions can be made to:
Paige Fittro Fund
c/o Calhoun Banks Elizabeth
PO Box 129
Elizabeth WV 26143
"This account has been set up by the caring citizens of Wirt County," according to a fund organizer.