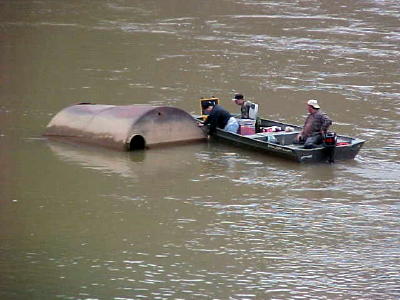 Sheriff Carl Ballengee and workers
operate underwater camera near sunken tank
The search continued yesterday for a Calhoun fisherman who appears to have fallen into the Little Kanawha River.
Seventy-one-year-old Junior Rose of Straight Creek has been missing since Monday evening, after his empty boat was discovered.
Family members remained throughout the day, holding vigil along Munday Beach, a short distance from the Wirt County line.
The search was called-off at dark.
Yesterday, a high-tech underwater camera was used for the first time.
The camera was brought from Warren Township, Ohio to help with the search. Sheriff Carl Ballengee said "We are grateful to them for delivering the camera, and the large amount of help being given to find Mr. Rose."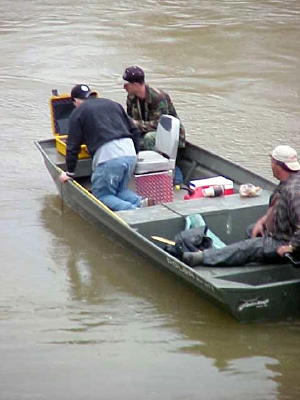 Camera can spot small and large objects
underwater, says Sheriff Ballengee
Asst. OES Director Roy Pursley said he understood the camera could pick-up images even in muddy water.
While the river level has dropped about three feet, it is still high and running swiftly.
Sheriff Ballengee said the county's fire departments have helped with the task, in addition to divers and cadaver sniffing dogs. "Some folks have even brought their boats to help with the search," he said. "The community has been really helpful, but now we're facing more rain."
Sheriff Ballengee said there was a witness who last saw Rose apparently having trouble with the motor on his boat, shortly before he disappeared.
"We have searched on both sides of the river with dogs, trying to find scent or tracks or trail where he has come out of the river," he said. No trail has turned up.
Efforts will continue.
SEE earlier Hur Herald stories.