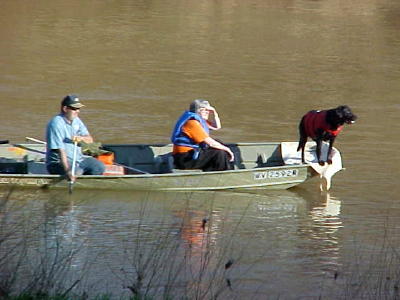 Cadaver sniffing dog searching for Rose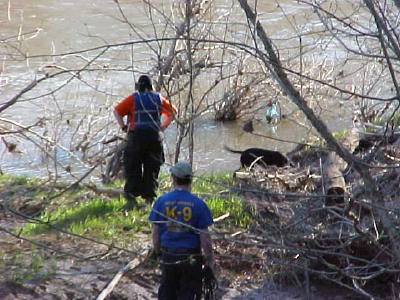 Search and rescue dogs being used on riverbanks
Rescue and emergency services workers did not locate a Straight Creek resident yesterday in the waters of the Little Kanawha River.
Junior Rose, 71, has been missing in the Little Kanawha River since Monday evening, after he put his fishing boat in the stream at Munday Beach. Relatives discovered his empty boat about five hours later.
Rescue efforts have been hampered by swollen and swift water in the Little Kanawha, said Asst. OES Director Roy Pursley. Pursley expressed concern about the river search, saying the weather forecast calls for rain Wednesday night.
The river level has dropped about two feet since Monday night.
The search started yesterday morning and continued through dark, according to Sheriff Carl Ballengee. Participating were members of the Grantsville and Wirt County VFDs and several other community volunteers. Besides Sheriff Ballengee, Deputy Ron Bandy and Cpl. Doug Starcher were on scene last night.
Cadaver "air sniffing" dogs from Wood County arrived on the scene yesterday evening, along with other search dogs that combed the banks.
Sheriff Carl Ballengee spent most of the day searching the river bank across the river from Munday Road.
Members of the Rose family have been waiting along the river at Munday Beach at the mouth of Leading Creek, a short distance from the Wirt County line.
The search will continue Wednesday, said Sheriff Ballengee.
Rescue workers have been assembling at Munday
Beach bridge at the mouth of Leading Creek
SEE earlier HUR HERALD stories