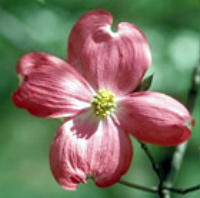 Submitted by Kenny Jones

The Land Resources Department at Glenville State College will be selling Red Cherokee Chief Flowering Dogwood Trees.

They are being shipped Monday April 4th and will be sold Friday April 8th (tentative) at Eberle Hall across from Pioneer Village.

These are a common dogwood tree great for planting in our mountainous regions where they are easily grown. The seedlings are $3.50 each or 3 for $10.

They would be great for Mother's Day gifts!

The trees produce deep rose pink flowers that are paler at base with red berry clusters and a rich ruby red bract color with reddish new foliage.

Red Cherokee Chief Dogwoods grow to a mature height of 15-30 feet and have a spread that spans 15-20 feet in length. They tolerate full sun to full shade and are widely adaptable to a variety of soil types and soil moisture content.

Contact Kenny Jones at jones.kenneth@glenville.edu for delivery information in Grantsville. All sales go to the land resources department.