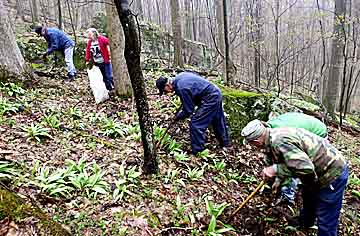 West Forkers will go to the higher mountains to dig the delights this week (Photo by Tom Hardman, Charleston Daily Mail)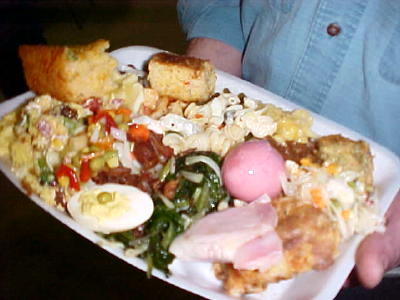 A plate of fixin's, light eaters beware
By Bob Weaver
'Tis ramp time.
The smell of ramps being cooked at the Upper West Fork Park will drift across the West Fork to Route 16 today, drawing folks from far and wide to the annual Ramp Dinner, an event that has had its legs for over 30 years.
Ramp eatin' time at the Upper West Fork Park is a celebration, a tonic for the body and soul.
Hundreds will come to enjoy the morsels, cooked to perfection in large skillets. This years' event is expected to be larger than ever due to the PBS documentary "King of Stink," shown throughout West Virginia, which showed some scenes of the events giant spread.
The bad breath problem, while it does exist, is mostly an exaggerated myth, unless you're a regular ramp eater. Then the odor does tend to leak through the sweat glands for neighbors to enjoy.
Diners will also be delighted with the other entrées from chicken and ham, beans and cornbread, salads and dozens and dozens of home-cooked delights. Then there will be the biggest dessert table you ever saw.
The Appalachian delicacy, now an entrée at some world famous restaurants, is also known as wild leeks, wild garlic or wild scallions.
There are all kinds of fancy ramp dishes, ramps au gratin, ramps with white wine sauce, marinated ramps with toast points and even ramp pudding. Around here you can buy pickled ramps and ramp jelly.
But here on the West Fork they know how to fix 'em, cooked just right, mixed with some country favorites or just raw for those who like to prove themselves.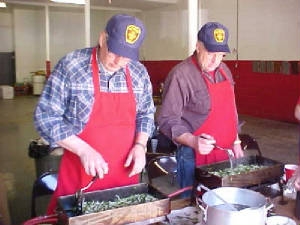 UWF Volunteer Firemen cook the ramps to perfection
Even more important is the sharing of the delicacy with family and friends, the drudgery of digging, cleaning and preparing is lessened with the fellowship.
The "big feed" starts at 4 p.m. The fee is $8 for adults, $3.50 for children 6-12, under six eat free. You won't go away hungry.
For more info on the annual event see uwfvfd.tripod.com