By David Hedges
Publisher www.thetimesrecord.net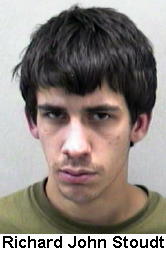 A Spencer man free on bond after being arrested last month on methamphetamine charges is in jail after being arrested again last week on new charges.
While awaiting a preliminary hearing, Richard John Stoudt, 25, of Elm St. was lodged in the Central Regional Jail in lieu of $125,000 bond set by Roane Magistrate Russell Goodwin. Prior to his latest arrest Stoudt had been free on $17,500 bond.
Stoudt was driving on Johnson Creek Rd., near Walton, last Monday night when he was stopped by State Police and members of the Roane Sheriff's Dept. Police said they found jars containing two-layer liquid and several ingredients used to make meth in the car.
As part of an ongoing investigation, police also charged Stoudt with selling methamphetamine to an undercover informant in the parking lot of the Spencer Go-Mart in early March. Stoudt received $25 in the transaction, according to the charges.
Trooper F.L. Hammack charged Stoudt with operating or attempting to operate a clandestine drug lab, manufacturing or attempting to manufacture a controlled substance and three counts of possession of a controlled substance with intent to deliver.
Last month Stoudt and another Spencer man were arrested for allegedly visiting several local stores to buy ingredients to make meth.