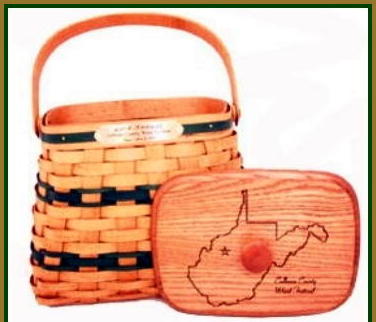 Submitted by Jackie Blankenship
Support your Calhoun County Wood Festival year after year! Share in the tradition by starting your collection with the 2005 first in a series limited edition basket.
Calhoun Wood Festival Committee is working with American Traditions Basket Company to bring you hand-crafted quality, made in the USA, Wood Festival commemorative baskets.
Each American Traditions Basket is hand-woven of the highest quality maple and is signed and dated by the artisan.
Each basket is numbered and only a designated number of baskets will be sold.
The cost is $49.95 - Includes basket, lid and brass tag.
Plastic liner - optional for $5.
Baskets can be shipped to your home for the actual cost of postage (to be determined by mailing address)
Send check or money order to:
Wood Festival
PO Box 722
Grantsville WV 26147
For more information call 354-6313, 354-6671 or 354-9204
Or email:
jackielb@citlink.net
branosh@wvadventures.net
jpowell@wvdhhr.org