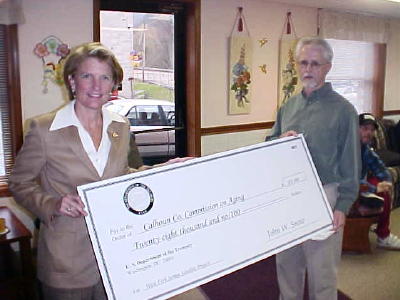 Congresswoman Shelly Moore Capito came to Grantsville yesterday with a check for the Calhoun County Committee on Aging. Capito presented a check to CCCOA Director Mike Ritchie for $28,000.
Ritchie said the center will use the funds to complete the erection of a new center on the old Minnora school site, which will serve senior citizens in the Orma, Minnora and Chloe section of the county.
Capito praised Ritchie for the work he has done for Calhoun seniors, saying the expansion of services in the county is an important step.
Ritchie said "Congresswoman Capito has always reached out to our seniors, asking what she can do to help. We are very grateful to her for her interest and assistance."
The CCCOA is also using $100,000 of Budget Digest money for the project, part of which was used to purchase the property from the Calhoun Commission.
The new center is expected to be in operation this fall.