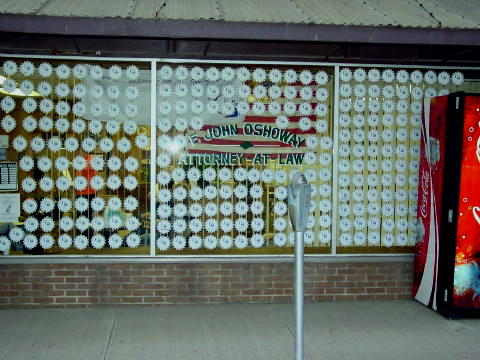 The E-Lemonade-rs Relay for Life team have completely filled the Law Office window of John Oshoway with Relay for Life "Danglers". Sue Oshoway - Team Captain for the E-Lemonade-rs estimated about 250 tags in their window and they are still selling them!
"Danglers" are available for a donation of $1 through Relay for Life team members.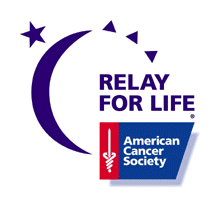 Relay For Life is a fun-filled overnight activity that mobilizes communities across the country to celebrate survivorship, remember those who lost their lives to cancer, and raise money for the fight against cancer.
Relay For Life of Calhoun County will be held May 24 and 25, 2005 at Calhoun Middle-High School, Mt. Zion, WV.
The event begins Friday evening with the Opening Ceremony, survivors will walk the 1st lap at 7 p.m. The walk will continue throughout the event.
There will be a Luminaria Ceremony at 9:30 p.m. Friday. Luminaries will be lit in memory and honor of loved ones and friends who have had cancer.
Closing Ceremony will be 6 a.m. Saturday morning.
Relay For Life is the American Cancer Society's signature activity. It offers everyone in a community a chance to participate in the fight against cancer. Teams of people camp out at a local high school, park or fairground and take turns walking or running around a track or path. Each team is asked to have a representative on the track at all times during the event. Relays are an overnight event, up to 24 hours in length.
Because Relay For Life is a community gathering rather than an athletic event, anyone and everyone can participate. Teams form from businesses, clubs, families, friends, hospitals, churches, schools, and service organizations. Team members share a common purpose — to support the American Cancer Society's mission.
For more information on local Relay for Life teams and activities contact Jean Simers 354-7315 or 354-7595
For more information about Relay for Life see the American Cancer Society's Homepage www.cancer.org