Richard L. "Rick" Jarvis, owner of Mid-State Auto Supply in Grantsville, was promoted to the rank of Lieutenant Colonel in the U. S. Army Reserves on March 1. Jarvis' military career began as an ROTC Cadet at WVU. In his senior year he became one of the first cadets in the country to join an Army Reserve Unit as a cadet officer with the 305th Military Police Company.

LTC Jarvis has been assigned to the 4th Brigade, 80th Division, USAR, where he was in charge of Logistic Operations, providing training needs for over 2000 military students per year throughout five states and Washington DC. His new assignment is intelligence and Operations Officer for the Brigade.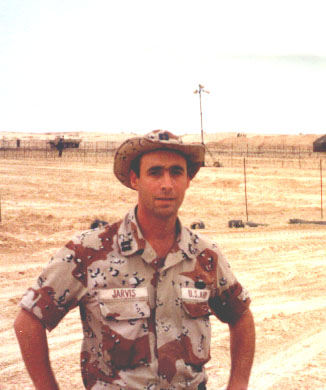 Jarvis in Saudi Arabia, 1990 "Desert Storm"
Between his junior and senior year at WVU, Jarvis was stationed at Fort Benning GA and completed the Army Airborne Course. He was then assigned to Fort Bragg, NC and completed the Army Officer Advanced Course. After graduation from WVU with a BS in forestry in 1981, he was stationed at Fort McCellan AL and completed the Military Police Officers basic Course. He has attended numerous military schools.
His past duty assignments include Platoon Leader 305th Military Police Company, Company Commander 305th Military Police Company and Assistant MOS Director 2093rd USAR School.
In 1990 he was activated for Desert Storm. While in Saudi Arabia he was assigned to the 313th Military Police Detachment, Enemy Prisoner of War Information Division Chief. Later he was assigned as Assistant Liaison Officer for the 800th Military Police Brigade. After coming home he was reassigned to the USAR School in Cross Lanes and later assigned as Training and Operations Office to his present unit, 4th Brigade, 80th Division in Charleston.
LTC Jarvis has been decorated with the Army Commendation Medal (2), Army Achievement Medal (2), National Defense Service Medal, Army Service Ribbon, Army Overseas Ribbon and Parachutist Badge.
LTC Jarvis resides in Grantsville with his wife Cheryl, daughter Kristina and sons, Seth and Aaron. He is the son of Richard and Edna Jarvis, longtime operators of the J & B Drug Store in Grantsville.