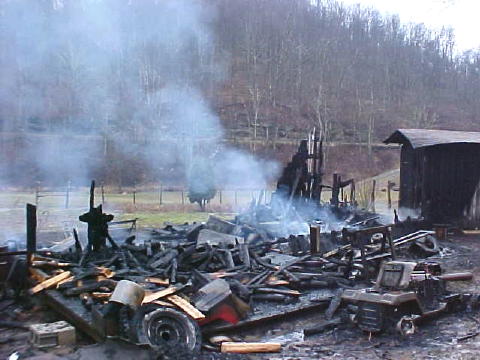 Phil and Joyce Payne's woodworking shop on Barnes Run burned to the ground early this morning. The Paynes, among Calhoun's best known woodcrafters and artisans, lost all their equipment and their livelihood.
They had no insurance. "We couldn't afford to buy insurance this far away from the fire station," said Joyce.
"Even the riding lawn mower burned up," she said. "When things are lost, new doors open up, thank the Lord."
The couple heard a small explosion about 4 a.m. and went to the window to see the shop on fire. "The firemen came really quickly, but it just couldn't be saved," she said.
The Grantsville VFD responded to the fire.
A smaller outbuilding containing specialty wood also burned.
The Payne's are recognized artisans on the West Virginia crafter's circuit.
The Payne's can be reached at PO Box 56, Mt. Zion WV 26151.
See CALHOUN ARTISANS PHIL AND JOYCE PAYNE - "Still Working The Wood" on today's News Updates ... reprinted from an earlier story.