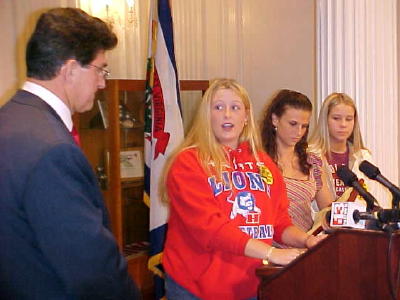 Gov. Manchin listens to Lincoln County student's
disapproval of longer bus rides (Hur Herald photo)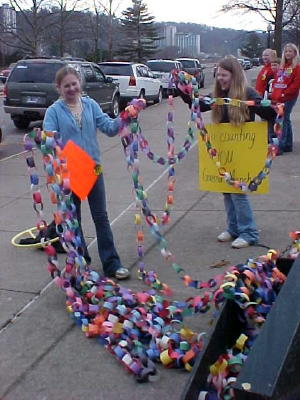 Students say each of 1,440 links represents one hour that a student will spend on a school bus during their high school career, rides that last as long as three hours a day for some students (Hur Herald photo)
By Dianne Weaver
During a week when the State Department of Education asserted its power over the Mingo County school system, taking it over for a second time, Gov. Joe Manchin declared "to protect and support every one of our state's small, rural, community-based schools."
"I grew up in a small community and attended a small school," Manchin said.
A bill in the West Virginia legislature gives Manchin more power over state education officials who have been on "a rampage of consolidation," according to Challenge WV coordinator Linda Martin.
Martin said the promise to save money and improve services is "pie-in-the-sky."
Mingo school board president Bill Duty said "It is unbridled power, super-sizing our community schools." Duty has led the county's fight against closing three high schools and building a new mega-million dollar school on a strip mine site, causing long bus rides for many students.
The three high schools are still considered modern facilities, built in the 70's and 80's.
"I'm just committed to doing everything I can to preserve the community and rural schools that we have throughout West Virginia," said Manchin. "That doesn't mean I'm against consolidation. It just means I'm against consolidation for the fact of building something new and disrupting everyone's lives and destroying communities."
Manchin, during his campaign opposed wholesale school consolidation, a policy that has been reversed in most states. He supports Distance Learning Centers using technology to bring teaching services to rural schools. Gayle Manchin, the governor's wife, will be leading the effort for distance learning.
More than 50 Lincoln County students came to Charleston last week to rally against long bus rides, some of which require students to be on school buses up to three hours a day.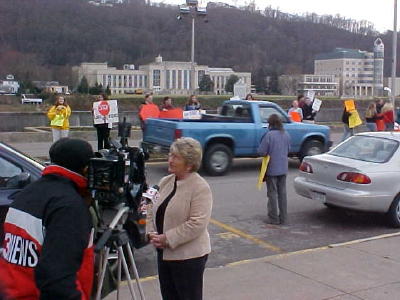 Challenge WV's Linda Martin talks about "No Cost Busing Bill"
as students rally on Kanawha Blvd. (Hur Herald photo)
Challenge WV's Linda Martin said she felt distance learning is an important part of a solution. "It's the answer educationally, and it's the answer economically," she said.
It would cost only about $20,000 to equip each school with cutting-edge distance-learning technology and would save millions of dollars of construction and transportation costs.
Consolidated schools in Lincoln and Mingo counties would be the most expensive high schools ever built in America. The Lincoln school at Hamlin will cost between $35 and $45 million dollars upon completion, for about 800 students.
Martin is working with the administration to craft a new version of the "No Cost Busing Bill" which will limit the length of bus rides for students attending newly consolidated schools.
State education officials say the bill will cost the state millions of dollars. Martin said "That is pure fabrication." Manchin indicated he would support the bill if it didn't add any costs.
Senate Majority Leader Truman Chafin, D-Mingo, faulted the Mingo county school board for opposing consolidation without offering a good alternative. Chafin appears to have positioned himself on both sides of the controversial issue, but consolidation opponents say he has been in favor of closing community schools.
President Bill Duty said "No one in their right mind would sign-off on the state's plan. We don't even own the land where they want to build the school."
"It's time to reign in the bureaucrats. The citizens of West Virginia have been rolled-over enough," he said.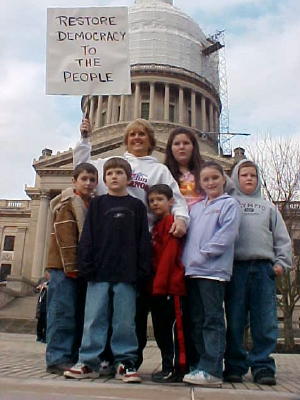 Lincoln County school board president Carol Smith, shown with students at Capitol, Lincoln's Board of Education have unanimously voted against forced consolidation in their county (Hur Herald photo)