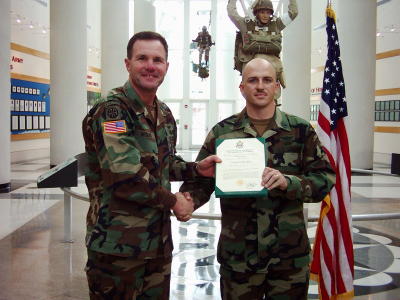 Staff Sergeant John W. Nicholas, son of Mr. And Mrs. Wesley Nicholas of Orma, was recreantly promoted to Sergeant First Class. He is currently stationed at Ft Bragg, NC with the 82nd Airborne Division.
He was promoted by his Brigade Commander, COL Perry L.Wiggins at a ceremony conducted at the Airborne and Special Operations museum located in Fayetteville, NC.
His previous assignments include Honduras, Germany, Afghanistan, Iraq, and two tours in Korea. His awards include, the Bronze Star (for service in Iraq), 6 Army Commendation medals, 4 Army Achievement medals, 5 Good Conduct medals, the Global War on Terrorism Expeditionary medal, the Global War on Terrorism Service medal, 2 National Defense Service medals, the army Reserve Component Achievement medal, as well as the Senior Aviation Badge, Senior Parachutist Badge, and the Expert Rifle and Pistol badges.
He will be moving to Ft Eustis, Virginia in March were he has accepted an assignment as an Instructor at the US Army Aviation Logistics School. He is married to the former Ms Barbara Marsh of Nitro, WV and they two children, Kelsea and Wesley