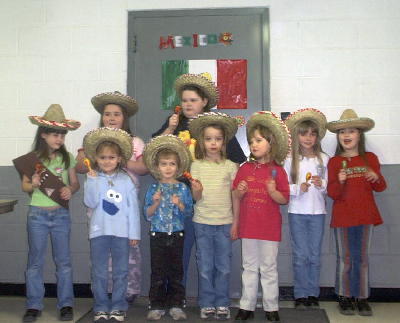 Row 1- Kaylee Jarvis, Savannah Bower, Taylor Blosser, Kristen Booher Row 2 - Sierra Paxton, Caitlin Roberts, Carol McCumbers, Cassi & Brandi Dobbins
Submitted by Missy Nicholas
Troop Leader
Brownie Troop 4971 celebrated World Thinking Day on Saturday, February 19 at the Arnoldsburg Community Building. The country our group selected to study was Mexico. At our last meeting, the girls made little Mexican fiesta Hat magnets. The girls enjoyed wearing sombrero hats, playing maracas, and eating different types of Mexican food.
Each year Girl Guides and Girl Scouts all over the world celebrate World Thinking Day. This special day marks the joint birthdays of Lord and Lady Baden-Powell who founded the Girl Guiding and Girl Scouting Movement. World Thinking Day reminds us that we are all part of a global organization supporting girls and young women, providing opportunities and helping them to develop new skills. Just think - while you are celebrating World Thinking Day 2005, there are girls just like you on the opposite side of the world doing the same!
Thinking Day 2005 is all about food. We're using food to celebrate, and discovering new tastes from different cultures all over the world. Girl Guides and Girl Scouts are learning about the different types of food we need to eat to keep us healthy, and discovering how food is produced, and where different types of food come from.
A special thanks to the following parents and individuals who helped with the event: Robin McCumbers, Lynn and Shaun Blosser, Cheryl Roberts, Jaime Booher, Melissa Bower and Josh Falls, Julie Jarvis, Melinda Dobbins and Lucas McCumbers.