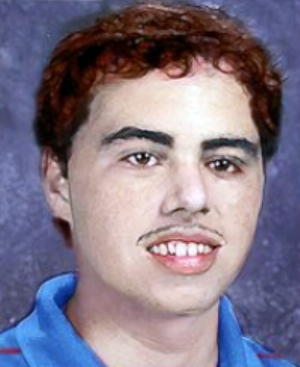 Composite Photo
This is a new photo composite of the Mineral Wells murder victim, yet to be identified. His beheaded body was found in a field near the Wood 4-H camp on February 5.
The victim was believed to have been 21 or younger, was 5'11" and weighed about 140 pounds. He had dark hair that had been dyed red, a tongue piercing, brown eyes, a thin mustache and thick eyebrows.
Wood County's Sheriff says it's been learned the victim's clothing included a pair of U.S. expedition khaki colored pants, size 36, plus a size 34 Levi's belt.
He also had size 12 high-top shoes, made of canvass material but apparently worn without shoestrings.
The victim was wearing a teal blue with red horizontal striped shirt.
If you have any knowledge of the incident, or think you can identify this man, please contact the Wood County, WV Sheriff's Dept. or your local authorities.