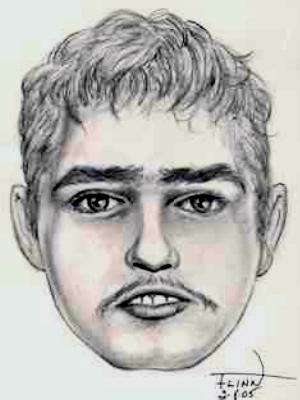 Sketch of homicide victim discovered near Butcher Bend Road If you have any knowledge of the incident, or think you can identify this man, please contact the Wood County Sheriff's Dept. or your local authorities
The Wood County Sheriff's Department is asking the public for help in identifying a man whose burned and decapitated body was found on a Mineral Wells farm on February 5.
The victim is described as about 21 years old or younger, about five-foot-eleven inches tall and between 130 and 150 pounds. He had dark hair that had been dyed red, brown eyes, a thin mustache and thick eyebrows.
Wood County Sheriff Ken Merritt says the victim was believed to be wearing a 20-inch sterling silver woven or braided necklace.
The sheriff's department also says the victim had a pierced tongue.
Sheriff Merritt says it's been learned the victim's clothing included a pair of U.S. expedition khaki colored pants, size 36, plus a size 34 Levi's belt.
He also had size 12 high-top shoes, made of canvass material but apparently worn without shoestrings.
The victim was wearing a teal blue with red horizontal striped shirt.
Sheriff Merritt says the victim had been set on fire with an accelerant.
The body and head were found in a field along Butcher Bend Road shortly after two other burned bodies were found in an apartment that had caught fire in Parkersburg.
The victims of that fire have been identified as 31-year-old John Nestor, III and his girlfriend, 31-year-old Tracy Thompson. The causes of their deaths and the cause of the fire have not been released.
Authorities are investigating to determine if the two incidents are related.