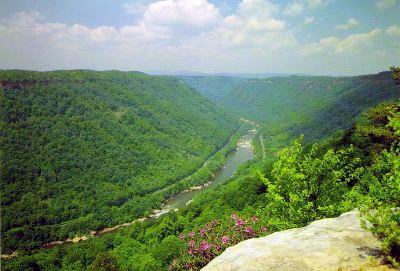 "May your trails be crooked, winding, lonesome,
dangerous, leading to the most amazing view." - Edward Abbey
Photo courtesy the National Park Service
By Bob Weaver
Following the Bush administrations proposal to develop the Mon National Forest for mining, drilling and timbering, a "healthy forest" initiative, one of West Virginia's most beautiful scenic areas is slated for development.
A real estate development firm based in Atlanta, GA, Land Resource Companies, is proposing a 2,200-home development along ten miles on the rim of the New River Gorge in Fayette County.
The Fayette County Commission is being asked to rezone the area.
The 4,300-acre property is currently owned by Rush Creek Land Company which hopes to complete the sale by the end of February.
The development is located north and south of the Cunard community, with 613 acres of the proposal actually within the boundary of New River Gorge National River. The remainder is immediately adjacent to the National Park Service boundary, which follows the rim of the Gorge.
The area of proposed development is zoned by Fayette County for "land conservation."
The developer is requesting that the area be re-zoned for "planned development."
The National Park service supports the county commissioners and zoning board members' continued protection of the area as a conservation zone, particularly those areas within the park boundary, and the areas along the canyon rim.
The original Environmental Impact Assessment for the Gorge recommended no development within 500 feet of the rim.
This development could be visible from several popular overlooks on the east side of the Gorge such as Diamond Point on the Endless Wall and Babcock State Park.
In 1978, Congress charged the park service with protecting the natural, scenic and historic values of the New River Gorge.
The park service was directed to work with local governments to establish zoning laws or ordinances which achieve the protection of those values.
Fayette County has been a leader in this arena and a valued partner of the National Park Service.
A public hearing has been scheduled by the Fayette Co. Planning and Zoning Commission for February 22 at 3:00 p.m. in the Fayette County Courthouse.
Read more about the proposed development at www.nps.gov