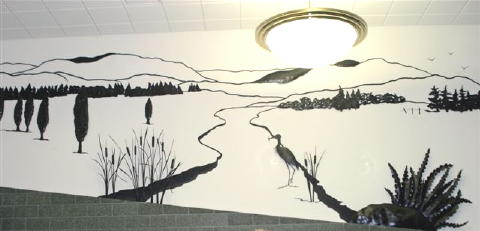 Fetty's work now graces EPA building in Charleston
2005
Jeff Fetty, the well-known artist-blacksmith from Roane County, has his work around the USA and in other countries.
His family are Calhoun originals from Richardson.
One of Fetty's latest commissions was recently completed for the Department of Environmental Protection in Charleston.
"In creating a representational sculpture, we wanted to create a work that would be suitable for the physical space and also reflect the mission of the Department of Environmental Protection," Fetty said.
The work is a depiction of an archetypal West Virginia scene. "We sought to include elements that would speak to the ecosystem through depiction's of life cycles, interdependencies and subtle evidence of a human presence," he said.
The artwork depicts animals actively feeding or nesting and representations of growth and decay
"We have also added abstract forms that would lend themselves to multiple interpretations," Fetty said.
Fetty has been forging for over 30 years, coaxing hard, cold iron into delicately wrought objects. Crafting in the traditional way - using fire, anvil and hammer - he fashions intricate sculpture, fine furniture and exquisite accessories.
Fetty's works abound with flowing organic forms and amazingly accurate horticultural renderings, and are gently entwined with vines and flowers in such a subtle way that the casual observer forgets they are actually steel.
He is well-known locally and nationally for his large public sculptures particularly his large flowers. Recently, he has undertaken commissions for representational sculptures of both religious and secular themes.
Visit Jeff and Leaning Oak Forge www.jefffettyironwork.com