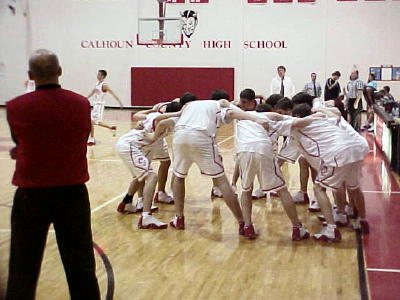 Coach Tim Moore with players at start of game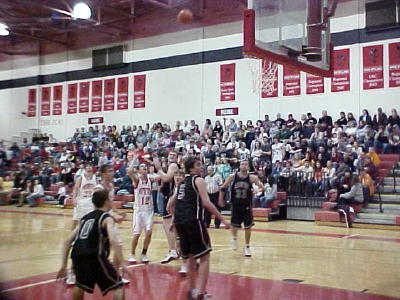 Devils went down to Roane team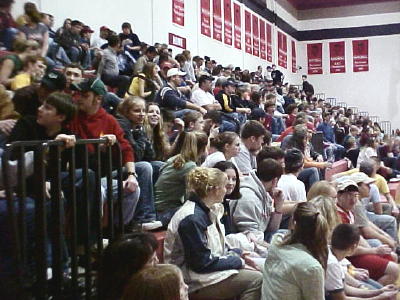 Calhoun and Roane fans filled half the gym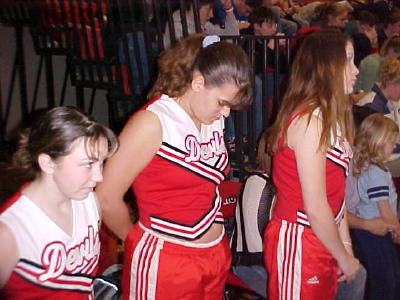 "Moments of silence" in memory of Missy Oshoway, a nineteen-year-old graduate of the Class of 2004
By Gaylen Duskey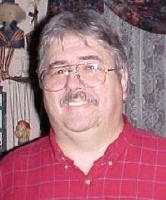 Most nights when a team shoots 20 percent it is going to lose.
Thursday was one of those "most nights" and the team was Calhoun. The Red Devils shot an un-resounding 11 of 55 from the floor - 20 percent - and fell with a thud to visiting Roane County, 51-27.
Calhoun started out like a house on fire but the flame quickly extinguished. The Red Devils led early and were up by three on a couple of occasion behind the shooting of Jake Perkins.
But the torrid start quickly flamed out.
Roane righted itself and grabbed a 14-11 lead as Calhoun suddenly went cold from the field.
The frigid shooting continued into the second quarter and by intermission the Red Devils had dug themselves a pretty deep hole, trailing 29-16.
Unfortunately things did not improve in the third as the Red Devils kept throwing up clinkers - many appeared right on target but bounced out - and Roane County started going inside to its 6-7 center Derek Hardman.
In a game that, at times, was extremely physical, the Raiders pounded on the Devils and took an 18-point lead after three quarters.
The fourth was more of the same as Calhoun's poor shooting from the field combined with Roane's power inside as the Raiders slowly added to the final tally.
Calhoun, which at times lives or dies by the three-point shot, was lax from outside the arc hitting only two of 27 attempts.
Perkins was the only scorer in double figures for Calhoun with 15 while Tristan Harris added eight and Mike Batten and Tommy Gerwig two each. Hardman led Roane with 19 and Justin Simmons added 14.
Roane is now 3-5 on the season while Calhoun drops to 2-5.
The Red Devils will try to rebound Monday night when they play host to Wahama.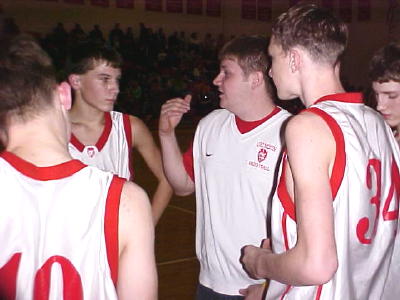 Jr. Varsity coach Tim Carpenter with team, which lost to Roane 36-33