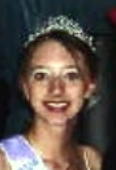 Funeral services are scheduled Sunday at 2 p.m. at the First Baptist Church in Grantsville for nineteen-year-old Melissa Gayle Oshoway of Millstone.

Greg Swisher will officiate with burial in the Husk Cemetery near Altizer.

Visitation will be Saturday from 6-9 p.m. at Stump Funeral Home in Grantsville.

Melissa died January 5, 2005 in St. Mary's Hospital in Huntington following complications from an auto accident on December 24.

She is the daughter of John and Sue Oshoway of Millstone.

She was a graduate of Calhoun High School with the Class of 2004 and was the school's 2004 prom queen.

Also surviving, her aunt and uncle, Rue and Shelia Brannon.

She was preceded in death by maternal grandparents, Genevieve and Orval Brannon and paternal grandparents, Frank and Florence Oshoway and uncle Delmas Brannon.