Submitted by Coach Jessi Evans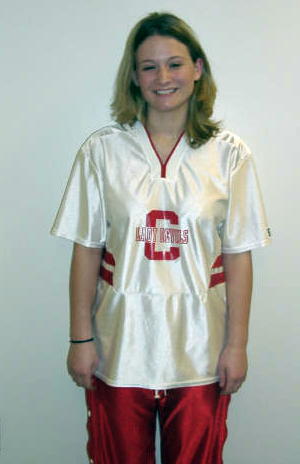 Kara Sears
The All-State Volleyball 2004 selections for AAA, AA and A were released on Christmas Day, Kara Sears was named to 1st Team.
Kara is a junior at Calhoun High School. She shared the captain position this year with Andrea Hardway. She is the daughter of Alan Sears and Vicky Summerfield of Arnoldsburg. She also participates in basketball and softball.
Coach Jessi Evans stated: "Kara has been a part of the volleyball team since I began coaching the girls in August of 2002. She has been quite a joy to have on the team, never complains about any of the hard work that it has taken and always gives 110%!! She motivates all her teammates in an encouraging way and everyone loves her on the team. Kara is the sole setter on our team. The setting position is the foundation for the team. That position landed her on the All-State 1st team."
Kara was also selected by the LKC coaches this year for 1st team All-LKC. There will be a banquet for all LKC players provided by the conference in May 2005 and an All-State banquet for 1st team players and their families in the spring/summer of 2005.
As a sophomore Kara was named to the LKC Honorable Mention and All-State Honorable Mention Teams. Kara's picture will be placed on the Wall of Fame at Calhoun High School with all the other All-State athletes from Calhoun. Kara is only the second Lady Red Devil to receive this honor and the first in volleyball (Martha Bunch was a first team All-State selection in 1991-92 in basketball).
Kara's stats for 2004 season:
1036 legal sets for 1048 attempts (98.9% accuracy)
308 assists for kills
157 legal serves for 198 attempts (78% accuracy)
119 points scored with 58 of those as ACES
and 19 successful blocks at 5' 2"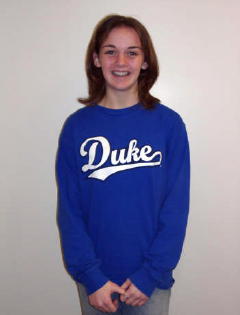 Andrea Hardway (R)and Courtney McKown (L)
Two Lady Red Devils received All-State Honorable Mention: 5'6" junior Andrea Hardway and 6'0" sophomore Courtney McKown.
Andrea is the daughter of Wayne and Vicky Hardway of Mt. Zion. Coach Evans said, "Andrea is a "powerful" outside hitter/blocker and very accurate server."
Stats:
188 legal spikes for 267 attempts
of those spikes 70 were Kills
187 legal serves for 212 attempted with 43 ACES (88%)
140 points scored
Courtney is the daughter of Wendell and Chris McKown of Beech. According to Coach Evans, "Courtney was our consistent middle hitter/blocker, occasionally hitting outside."
Stats:
306 legal spikes for 348 attempts (88%)
of those spikes 140 were Kills
64 blocks
108 legal serves for 153 attempts with 29 ACES
99 points scored
CONGRATULATIONS girls, from your teammates and coach.