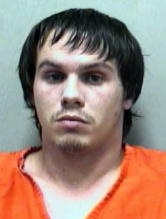 A Grantsville man, 24-year-old Adam Parsons, has been sentenced to the state pen for one year related to the physical abuse of a six-year-old Mt. Zion boy.

Parsons was given the sentence Thursday by Judge Thomas Evans III and made responsible for fines and costs, according to Prosecutor Matt Minney.

The six-year-old boy was a victim of what authorities called "serious wounding and abuse."

The boy's four-year-old twin brothers were also abused.

Parsons was indicted by a Calhoun Grand Jury on two counts of child abuse resulting in injury, one count of child abuse resulting in injury and one count of malicious assault.

The six-year-old was allegedly struck on the head numerous times by a broom or knife handle, causing multiple wounds. His head was reportedly swollen and his eyes swollen shut. The four-year-old twins had some injuries to the head, but not as serious.

Parsons had reportedly been left in charge while the father was away and their mother was at work.