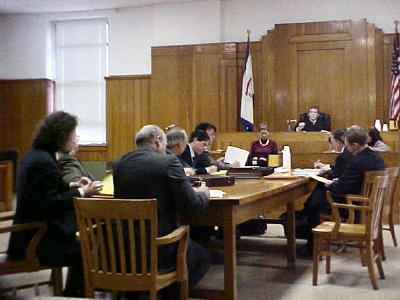 Calhoun courtroom was filled with attorneys in major class-action lawsuit
By Bob Weaver
A major class action lawsuit against Columbia Natural Gas was shifted to Grantsville yesterday for a hearing before Judge Thomas Evans III.
Hearings on the Roane County suit have been scheduled monthly, with the case scheduled to be heard in July.
The suit, which represents about 8,500 individuals, alleges that Columbia committed "common fraud" against royalty holders, some of them in Roane County.
It claims Columbia engaged in "fraud, deception, concealment, suppression and omission of material facts," failing to pay appropriate royalties to lease holders at fair market values.
Several motions were scheduled for yesterday's hearing.
The plaintiff's attorneys asked Judge Evans to strengthen an earlier order which requested that Columbia deliver materials and a "body of files" from a computer utilized by the company president, who has since resigned.
Columbia's attorney said they cannot locate the computer or the hard-drive.
Judge Evans said "The materials were there when the president left," and issued an order for Columbia to produce the files.
Columbia's attorney then requested that the courtroom be cleared of media and other public persons, a prerogative in civil suits. The Hur Herald was the only presence.
The suit contends that Columbia made illegal or unauthorized deductions when selling gas to their affiliated companies at less than a fair price.
The suit suggests millions of dollars have been skimmed from royalty holders, using several mechanisms to increase corporate profits.
Columbia denies any wrongdoing.
It also asks that civil penalties be assessed for each violation of the Consumer Protection Act, plus other compensatory and punitive damages, interest and costs be paid to the parties bringing the suit.
The West Virginia Supreme Court denied Columbia's effort to stop the suit.
The Charleston law firm of Masters and Taylor and George Scott of Spencer with, Carey, Scott and Douglas are representing the plaintiffs.