Submitted by Barbara McKown

We at MHHCC would like to thank the citizens of Calhoun and surrounding counties for your support of our facility. We are dedicated to offering the highest quality of care to our patients and we believe that your input is invaluable. Throughout the past year, there have been several changes to our facility as we continue to grow. As a result of these positive changes, there has been some confusion as to what services are offered at MHHCC. To dispel this confusion, we will be highlighting various services offered at Minnie Hamilton Health Care Center. We will be calling this series "Spotlight On." This week our spotlight shines on the Calhoun Dental/Medical Clinic.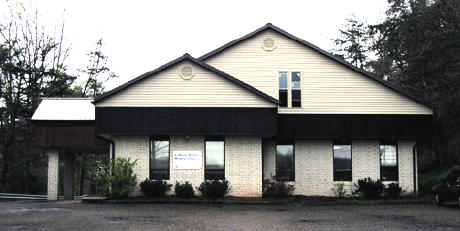 The Calhoun Dental/Medical Clinic was established in 2003 and is located on the hill above MHHCC in the former Dr. Aya-ay's office. The clinic offers medical and dental services with established providers offering high-quality care.
Dr. Juanito Aya-ay is a staple of Calhoun County with a long-established private practice. In January 2003, Dr. Aya-ay sold his practice to MHHCC becoming a member of the medical staff. Currently, Dr. Aya-ay sees patients two days a week. He is accepting new patients.
Dr. Suresh Balasubramony has been with MHHCC since November 2002. He joined the staff of the Calhoun Dental/Medical Clinic in May 2004. Dr. Suresh is Board Certified in Internal Medicine. Dr. Suresh has an affinity for diabetic patients and will be speaking to the Diabetes Support Group in December. He is currently accepting new patients and appointments are to be made at the Clinic.
Dr. Lynn Gilbert is the newest member of the Calhoun Dental/Medical Staff, joining us in September 2004. Dr. Gilbert received her dental degree from the University of Tennessee, College of Dentistry in Memphis, TN. Dr. Gilbert also has a Masters in Public Health. Dr. Gilbert is currently offering dental services at the Calhoun Middle/High School Based Health Center twice a month, in addition to her practice at the Clinic.
Amber Knapp, R.D.H. has been with the Calhoun Dental/ Medical Clinic since June 2003. Amber recently completed certification enabling her to administer local anesthesia. This is a rare accomplishment for a dental hygienist and MHHCC congratulates her on this honor.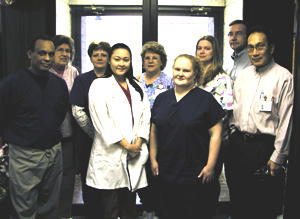 The staff of Calhoun/Dental Medical
are looking forward to working for you
Dental services offered include extractions; dentures, partials and crowns; restorative; preventative services; prophylaxis; general dental care; night guard and mouth guards for sports.
The Calhoun Dental/Medical Clinic has proven invaluable to MHHCC and the patients we serve. Dental hours are Monday-Thursday 9 a.m.-6:30 p.m.; Friday 8 a.m.-12 p.m. Medical Clinic hours are Tuesday and Wednesday 8:30 a.m.-5:30 p.m. To make an appointment or for more information, please call 354-6144. The Calhoun Dental/Medical Clinic looks forward to caring for your dental and medical needs.