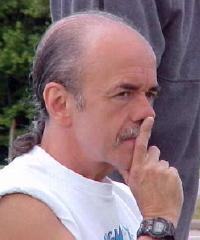 Harry Beall (left) listening intently as Calhoun Marching band students practice


Calhoun Middle-High School Band Director Harry Beall has resigned, taking a similar position in Doddridge County.
He writes to express his thoughts and concerns upon his resignation.


Dear Calhoun County Band Supporters,
As you know, I have been the "after school" Band Director at Calhoun for over three years. I loved doing this so much that I went back to school to get my music teaching certificate and graduated in December.
Since there was not a regular teaching position available for me at Calhoun, I have taken a position as high school band and choir director, and middle school band director in Doddridge County.
Since Doddridge County is in commuting distance, my family and I are able to continue to reside in Calhoun County. I am grateful for this because Calhoun is my home and that was our reason for moving back from Nashville.
Doddridge County has a thriving music program with strings, choir and band at both the middle and high school level; therefore, I feel honored to be able to be part of it.
For the past three years, I have watched the gradual decline of the music program at Calhoun County Middle/High School.
There is no middle school band program.
This means that no child is learning an instrument, which would enable them to play in the marching band when they get to high school. Fortunately, the West Virginia State Department of Education has approved revisions for Policy 2510, assuring that equal education opportunities exist for all students.
In regard to music, it means that Calhoun County Middle/High School must offer instrumental and choral instruction by 6th grade.
These required courses are "considered part of the encore curriculum and shall be taught at each grade level as separate subjects with adequate time to achieve mastery of the West Virginia Content Standards and Objectives." In my opinion, this will require flexibility and a willingness on the part of the administrators at Calhoun to implement this.
As far as the high school, there is currently a band class during the day, which Mrs. Chambers teaches. This class is only offered during the 1st semester, which runs from August to January. There is no band class offered during the day for the 2nd semester, which runs from January to June.
The students that are in marching band would meet two days a week after school (when they were able to work around other commitments) and were not required to take the daytime band class.
In summary, we have marching band students that are not required to take daytime band classes and only attend after school band practice when it's convenient. We have no middle school music program to serve as a feeder program to the high school band.
Other counties in West Virginia on block scheduling with a similar student population, have managed to work out their "scheduling nightmares" by going to a modified block for band and choir. This enables band and choir to be taught the entire school year. Because of how the music program is implemented at Calhoun, we have not had a Christmas Concert for the past two years.
Other things in jeopardy are band for graduation and Wood Festival. Hopefully there will be a marching band for the next football season.
There is position posted for "after school" Band Director.
Hopefully, the community realizes that there is no band class during the day. Many students that were in marching band now have other commitments and athletic commitments after school. This makes it impossible for students to be in both athletics and band. Band needs to be back where it belongs…….in the daytime curriculum.
My intention for writing this letter was to thank the community, parents, band booster sand students for working so hard to keep this band together under such difficult conditions.
I soon realized that the best way to thank them was to speak out about the problems that exist.
There are those who will thank me for writing this and those who will be very upset.
If people never stood up for what they believe in, we would still be worshiping many Gods and people still being made to sit in the back of buses.
Band was the highlight of my life and no child should be denied that experience. Those who have been in band will understand.
Sincerely,
Harry Beall