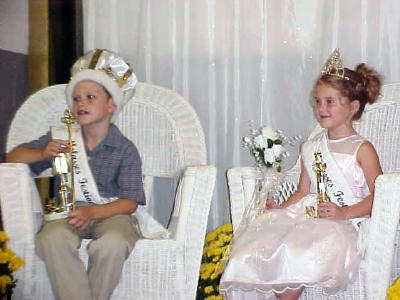 The Molasses Festival King and Queen
Alexis Webb and Kurtis Neely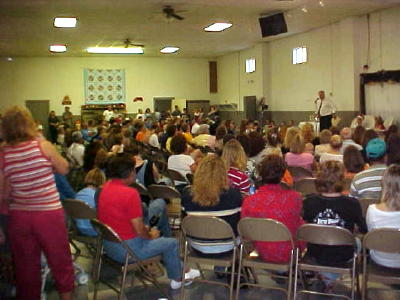 Royal ceremonies before a packed hall
with Arnoldsburg Principal Donnie Price as the MC
2004
The new King and Queen of the 37th Annual WV Molasses Festival received their crowns last night at Arnoldsburg.
The young Arnoldsburg School students selected were Queen Alexis Webb, daughter of Lynn Webb of Arnoldsburg and Lee Webb of Kenna and Kurtis Neely, son of Ronald and Christina Neely of Chloe.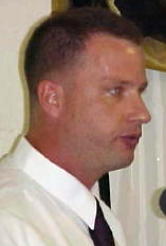 The first king of the Molasses Festival 33 years ago, Kyle McKown (left), son of Mr. and Mrs. Bernard McKown, welcomed the guests and participated in the ceremony. A retired military veteran of 20 years said he had traveled through over 30 foreign counties, but found the USA and Arnoldsburg to be the best place to live.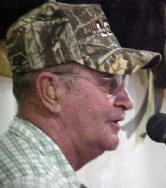 Singer and picker Ronnie McGlothin (right)sang a few toe-tapping specialty songs for the young audience, including "The Old Woman who Swallowed a Fly."


Arnoldsburg principal Donnie Price said the event, a fundraiser for the school, raised $5,887.05.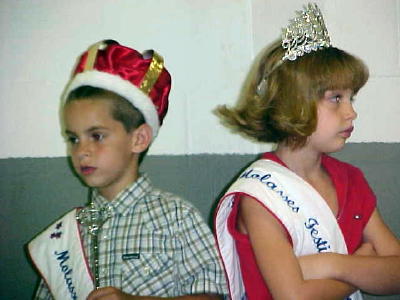 King and Queen from 2003 - Logan McKown and Chloey Boggs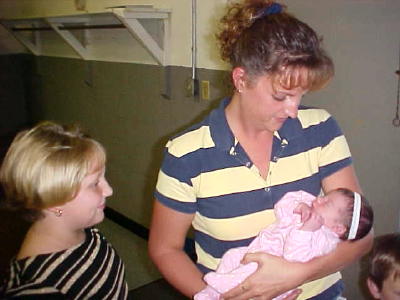 Two week old Mikayla Paige Boatwright may be the winner, someday
Kindergarten participants: Kaylee Banfield, David Marks, Karlie Johnson, Daniel Hall, Jr., Alexis Webb, Jerry Jones, Selena McCoy and Seth Moore.
First Grade participants: Hanna Fox, Austin Metheney, Kayla Lamb, Kurtis Neely.
Second Grade participants: Rebbecca Houchin, Dana Bourne, Makensy Bailey, Cameron Jones.
Third Grade participants: Autumn Smith, Justin Siers, Logan Moore, Brooklyn Smith.
Grade Four participants: Alexa Richards, Cody Helmick, Rachelle Murphy, Aaron Moore.