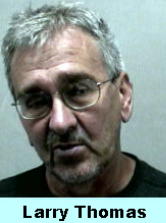 A Clay County jury took an hour and 15 minutes to render a guilty verdict yesterday afternoon at the Clay courthouse.

Larry Thomas, 62, stands convicted of murder in the first degree of restaurant owner Nancy Nelson.

Thomas had been charged with shooting his estranged or ex-wife Nancy Nelson, 49, in September, 2004. They had been married two years.

The prosecutor said the murderer entered Nelson's home near Maysel shooting her five times with a 9mm pistol. Police recovered a gun, but it was not the murder weapon.

Thomas returned to Charleston where he reportedly took an overdose of pills, called the police and was then hospitalized.

Nelson had been operating one of Clay's most popular eating establishments at the "Crossroads," located at the intersection of Rt. 36 and 4.

Family members, some who witnessed the murder scene, reacted emotionally last week during the trial, describing the event.

Questions came up regarding a person or persons who was reportedly having a relationship with the victim.

Experts said semen was noted on Ms. Nelson's body the morning of her murder. A man who admitted to a sexual relationship with Nelson, said he did not have sex with the victim the night before.

The DNA did not link the accused.

During cross-examination, a number of questions centered on the time frames from when the murder was committed and the arrest of Thomas in Charleston.