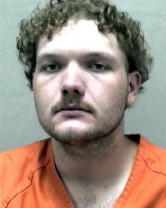 Grantsville resident Christopher Collins, 23, was sentenced yesterday to one-to-five years for third degree sexual assault, a felony.

Collins was found guilty of the charges in circuit court. He stood before Judge Thomas Evans III to hear his sentence.

Prosecuting Attorney Matt Minney said Collins' charges were related to the sexual assault of a 14-year-old female.

Collins was released from Central Regional Jail on the sexual assault charge, but was later involved in a domestic dispute last August.

State Trooper J. D. Hunt then arrested Collins and charged him with domestic battery.

Authorities responded to a residence after a 911 call reported a fight on the North Side of Grantsville.

A woman, described as the victim of the domestic battery, was taken to Minnie Hamilton Health Care Center by Calhoun EMS suffering from what was described as breathing problems.

Collins has served 194 days on the lesser offense, a misdemeanor.

Collins was represented by attorney Kevin Postalwait.

In another case before Judge Evans, Brandon Rose will return for trial on March 15th.

A murder case against Christopher Cox will come to trial on April 12th.