Monument vandalized, shot, overturned
and wedding picture removed at Hur Cemetery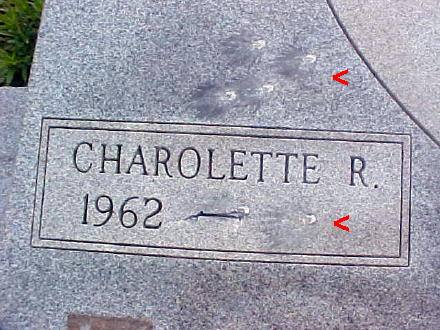 At least six gunshots were fired against monument ...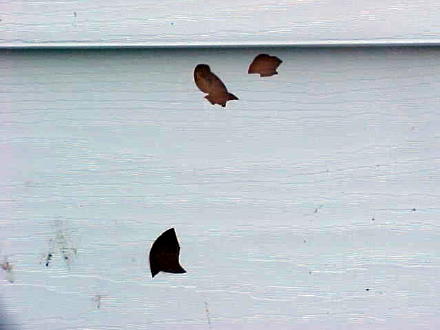 ... 3 of at least 22 holes in Mt. Olive Church from ricochet
7/2004
A vandal fired gunshots and vandalized a $2000 monument in the Hur Cemetery this past week, in a strange incident that appeared to be linked to an act of rage.
At least six gunshots were fired against a granite marker which designates the burial place of Michael Carpenter, who died of a gunshot wound in 1983.
The large monument was overturned, vases upset and a wedding picture of Carpenter and his wife, Charlotte Stutler Carpenter was pried away and taken.
The shots were aimed toward the part of the marker designating Carpenter's widow Charlotte, who has since remarried and is living in Wirt County.
Fragments and shrapnel ricocheted off the monument and struck the back of the Mt. Olive United Methodist Church about 35 feet away, causing at least 22 holes in the siding.
Cemetery caretaker Phyllis Kerby said the incident happened since last Monday. Local residents have yet to report hearing gunfire. Kerby said this is the first incident of vandalism in the cemetery in many years.
Carpenter, whose grave site was damaged, was reportedly shot and killed by Parkersburg native Howard Buskirk 21 years ago in what appeared to be a domestic dispute. The shooting took place on Little Creek.
Sheriff Allen Parsons and the West Virginia State Police are investigating.