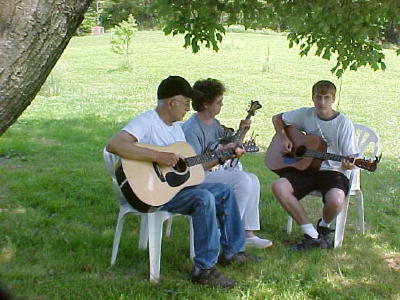 Beall, Wilson and Kisner carry-on long tradition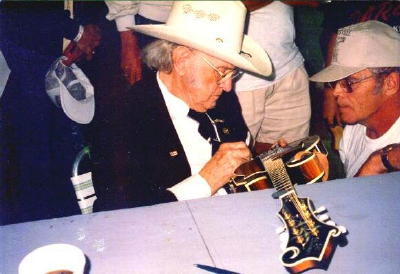 David Wilson (right) getting "Father of Bluegrass"
Bill Monroe's (left) autograph on his mandolin in 1991
By Bob Weaver 2004
Editor's Note: David Wilson's funeral service is today.
They jammed on old tunes like "Last Letter from Home" and "Seven Spanish Angels," much to the appreciation of Ruth's brother, David.
The Bealls and Wilsons launched their musical life in Calhoun during grade school, later going on to win the state FFA musical competition in the 1950s. Bob Beall and his wife have spent their lives, directly or indirectly, involved with music.
"We need to remember all those kids who played with us back then," said Beall, who agreed to talk about them for another story for the Hur Herald.
Beall and Wilson fit the Appalachian music tradition, descendants of Scotch-Irish, English, German, and French settlers who came across the Atlantic 200 years ago.
Beall's ancestors on his mother's side of the family, the Burns', are descendants of poet Robert Burns. The Burns clan are descendants of stump preacher Rev. William Burns, founder of the Enon Baptist Church. William Burns came with his preacher father Hugh from eastern Kentucky before the Civil War, bringing with them their talent and musical instruments.
Calhoun High School band director Harry Beall is Bob's brother.
Music now known as 'old-time' became prominent in the Appalachians during the last century, holding on to the tunes and lyrics that were performed on the front porches of mountain homes, churches and at community events.
The 1920s was a decade of string band popularity, and much to the surprise of American record companies, their tunes sold, sold, sold.
David Wilson owns one of the finest mandolins ever made by Gibson in the last century, personally autographed by Bill Monore, the father of bluegrass music. The instrument is worth between $8,000-$10,000, without blinking an eye.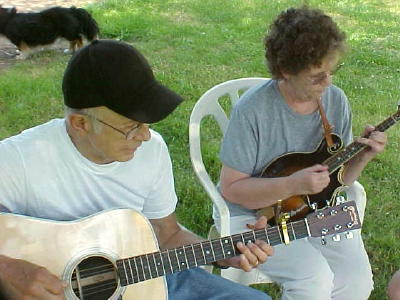 Bob Beall and wife Ruth have a life-long love of music ...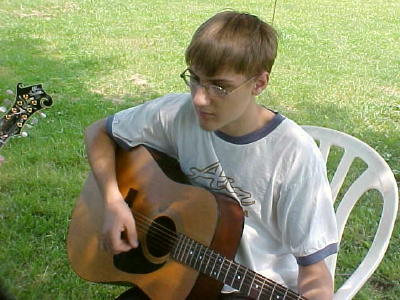 ... and Darrell Kisner is an apprentice to the tradition
Besides a few venues for public performance, it is still the back-porch jams that keep the music alive. Few old-time musicians can, or want to make a living playing a style now considered archaic by the general public, but others have managed to move into forms of the music that lend to personal performing.
The Bealls, who returned to Calhoun from Indiana, often perform at Al's Barn at Munday on Friday nights.
Right here in Calhoun County there is some of the best folk, bluegrass, and country music to be found anywhere.
Spending the afternoon with Beall and Wilson, among dozens of other Calhoun musicians, is bringing the past to the present, an experience that in some ways has changed little over the past 200 years.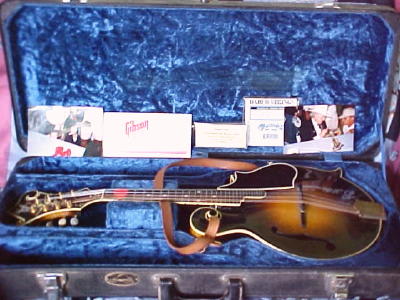 Wilson's "famous" Gibson mandolin