LOWELL AND JANET WEEKLEY HAVE PASSED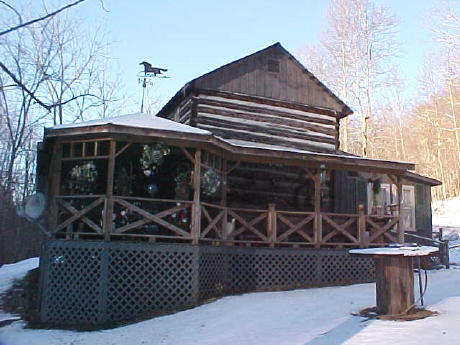 One hundred-year-old log cabin is a place called home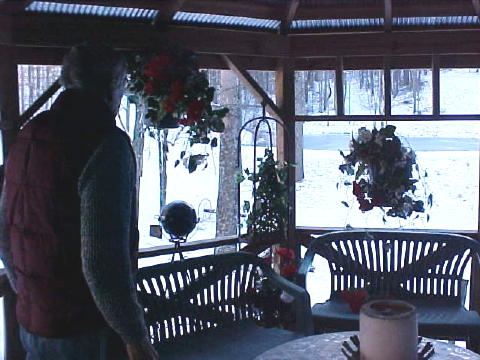 Large porch overlooks backwoods and one of two farm ponds
By Bob Weaver 2004
Lowell Weekley and his wife Janet returned to Calhoun about eight years ago to live in a narrow wooded hollow off lower Nicut, a family homestead built by his grandfather about 1900.
An early description of the area published by Lowell's stepmother, Opal Weekley, revealed how remote the section once was. "Chloe is on the edge of another world. The other world (Nicut) is located beyond a high mountain, reachable only by a narrow dirt road that slides precariously around hillsides and through mountain streams."
Through the early part of the 20th century "Mailmen on horseback delivered letters and packages to mountain homes scattered along the road to Nicut."
Access to Nicut and lower Nicut has vastly improved in recent years, with an asphalt road, although the side roads, while rocked and graveled, have changed very little.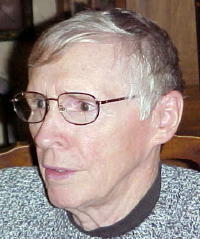 "Just over the hill is Grannyshee," said Lowell (right) where legend has it Daniel Boone once visited, most likely with acquaintances Adam O'Brien and Peter McCune, Sr.
Lowell Weekley is from the old school - "Come in and sit a spell," with a wide collection of family, friends and kids (all now adults) gracing the household.
"We're proud of our family," said Lowell. Daughters, Laura Christine Merchant lives in St. Albans and Laurel Naylor lives in St. Louis. A son David Weekley lives in Wirt County, and another son, Dale tragically died at the age of 17 in 1984.
Wife Janet started with a career in education, but "Staying at home and becoming the best mother a family could have," was her life, said Lowell, having a child, adopting and foster-parenting. She passed away last August.
Janet, speaking to a reporter in 1973 about the hard-work of raising kids, said "It is so rewarding and so much fun. Our children have brought much love to us."
Lowell is a retired teacher, coach and school administrator, working 35 years in Wirt County.
"She loved the place, particularly the big porch," he said, with a view of two large farm ponds. "We have but a short distance to go to church at Beech Valley," at the mouth of the holler on the lower Nicut road.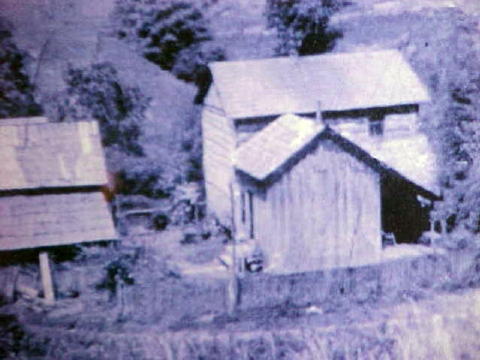 Original picture of Weekley log cabin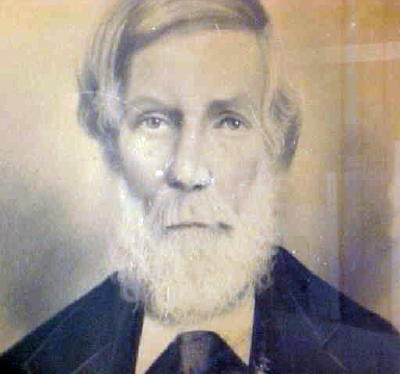 Paulcer Parsons was Lowell's great-grandfather
The log house was built by Steven and Mary Campbell Weekley on 45 acres owned by the Campbell family. They lived in the house during their lifetime, and their son Tusa Weekley, who never married, occupied the dwelling until he could no longer take care of himself.
Lowell said "We were always attracted to the place," who just happened to be born in the old log house, like his father Fred.
Fred Weekley married Lear Parsons in the 1920s. She is still living at the age of 95. Besides Lowell, there were seven other children. Paul, Bill, Sharon and Carroll are living, Robert, Glenna and Loy are deceased. In 1956 Fred Weekley, now deceased, married Opal Knotts Cottrell, the couple having a life together for 31 years.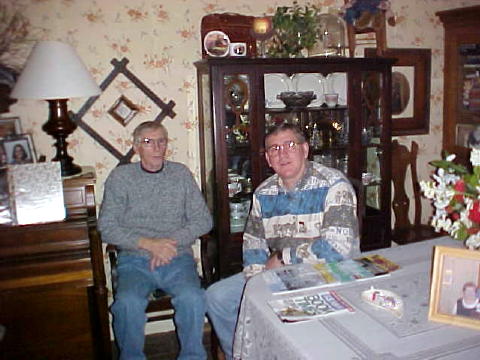 Lowell visiting with brother Carroll Weekley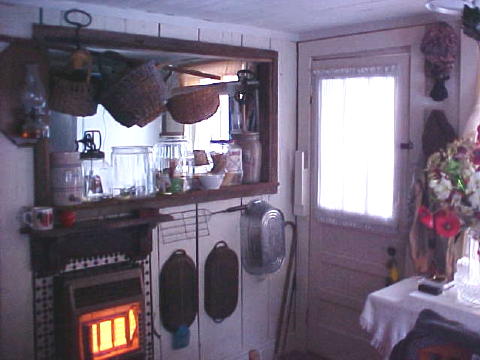 Mantle contains dozens of family collectibles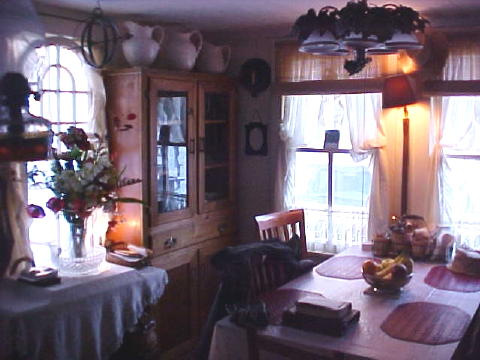 Cozy breakfast nook
Lowell said he and Janet decided to leave the old log house pretty much the way it was, although he did build an extra bedroom on the ground floor and a large porch overlooking two farm ponds.
The house is filled with the stuff of country life, family artifacts and belongings, but most importantly it speaks of well-lived lives.
EDITOR'S NOTE: Opal Weekley has recorded her life experiences in a booklet "Looking Back," a few years ago.