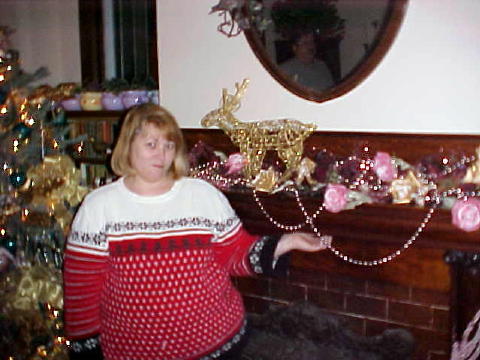 Linda Duskey makes Christmas magic with Victorian mantle and tree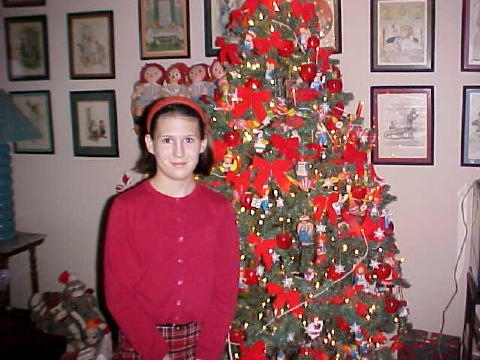 Elizabeth stands beside Raggedy Ann tree
By Bob Weaver
"I suppose some people would think it is overdoing it, but we really like Christmas," said Gaylen Duskey, who with Linda, his wife of 33 years, have been collecting Christmas ornaments and trees for years.
"Linda is masterful at putting it all together," he said. "We've really gotten into it the past ten or twelve years."
"We hand it to her and she does the magic," he said.
Gaylen said he enjoys the old things, like an aluminum tree his mom purchased from Francis Hardware in the 50s. "We still have the original box," he said. "I call it my tree," one of ten trees in the Duskey house, the former McDonald property on Main Street in Grantsville.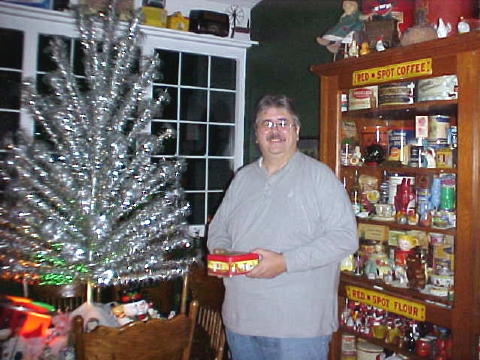 Gaylen likes the old Francis Hardware tree
Elizabeth's favorite room houses a large Christmas village
The roomy house lends itself to Christmas, lots of space, hallways and a giant front porch. "Plenty of room to move around." said Duskey. The house was known to most Calhouners as the home of the "southern lady" school teacher Louise McDonald, and her family."
There is the Coca-Cola tree, the Raggedy Ann tree, the Victorian tree and the old fashioned ornament tree, not to forget an entire Christmas village that sweeps around two walls of the dining room.
Twelve-year-old Elizabeth says her favorite is the village, which has illuminated buildings and several scenes that have moving characters.
Wife Linda makes thirty or forty pounds of mouth-watering homemade candy, from real chocolate covered cherries to coconut covered bon-bons. "We give it away to people who stop by," she said.
The Duskeys returned to Calhoun a year or so ago, for what Gaylen calls a comfortable place to live. "Elizabeth loves it. She can go down the street, and speak to everyone she meets and feel safe," he said.
A native of Hog Knob, a small ridge off Route 5 east of Grantsville, he recalls with fondness growing up in the remote area, but more importantly the kids who sprung from that snippet of the world. "You'd be surprised to hear about those kids, what they've done in their lifetime," he said. "I would like to write a book, just about Hog Knob and my friends."
Gaylen, who launched his journalistic endeavors as a sportswriter from the Calhoun Chronicle when he was in high school, has been working for newspapers and news organizations around America, as an editor, sports writer and reporter.
"We have come full circle," he said. "Tired of moving. We're back home now."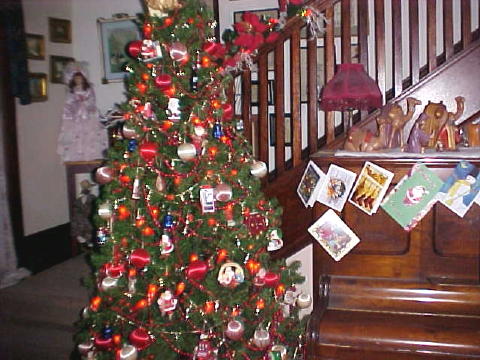 The Coca-Cola tree greets visitors in front hallway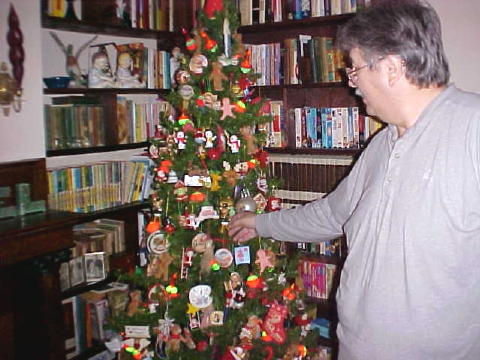 Hundreds of old ornaments are hung with care