Morning Sun School, Clay County, WV
(08/15/2003)

Submitted by Sara Mollohan Huffman, who says, "This photo was taken in Clay County, WV. When my mother and I would visit the John Duffield Cemetery in Clay County, she always told me of walking up over the hill from the cemetery to go to the Morning Sun School. Mind you, they lived on Elk River and the cemetery was way up on the hill from the river and you couldn't see where the school was from the cemetery. I was fortunate enough to receive this photo this spring and much to my surprise, my mother is the first one named in the photo. Myrtle Metz. All the Metz's in the photo are her siblings and a sister-in-law, Eula Vaughan (Metz) is also in the photo. Eula married mother's brother, Kellis Metz. By the way the Mollohan photos on the Hur Herald are my ancestors. William Martin Mollohan, Sr., is my great great grandfather."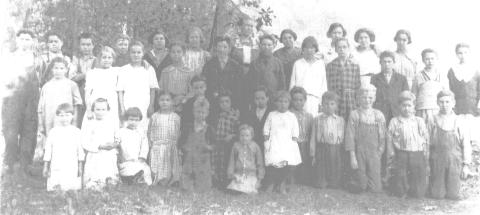 Morning Sun School Front row: Myrtle Metz, alice Metz, Stella Metz, Delpha Sirk, Spencer Duffield, Bill Belcher, Lucy Belcher, Stella Hays, Owen Hays, Meda Eagle, Ledra Argabrite, Dorsey Eagle, Hubert Smith, Ray Argabrite, Huey Smith
Row 2: Mary Duffield, Virlie Vaughn, Irene Argabrite, Vanna Sirk, Clarence Argabrite, Cecil Duffield, Elsie Eagle, Edna Belcher, Harry Metz, Ada Duffield, Ina Duffield
Row 3: Romer Nottingham, Sherman Sirk, Tella Duffield, Russell Duffield, Delpha Eagle, Eula Vaughn, Ella Sirk Duffield (Teacher), Maud Smith, Ruie Hays, Ethel Smith, Ida Argabrite.